U.S. stock futures higher in pre-market trading for Friday, June 29. The Dow Futures is trading at 24,309.00 up with +0.37% percent or +89.00 point.The S&P 500 Futures is trading at 2,726.75 up with +0.35% percent or +9.50 point.The Nasdaq Futures is trading at 7,089.50 up with +0.41% percent or +29.00 point.
In overnight trading in the Eastern Hemisphere, Japan's Nikkei 225 is trading at 22,304.51 up with +0.15% percent or +34.12 point. Hong Kong's Hang Seng is trading at 28,945.98 up with + 1.57% percent or +448.66 point. China's Shanghai Composite is trading at 2,847.42 up with +2.17% percent or +60.52 point. India's BSE Sensex is trading at 35,332.13 up with +0.84% percent or +294.49 point at 12:15 PM.The FTSE 100 is trading at 7,664.80 up with +0.65 percent or +49.17 point. Germany's DAX is trading at 12,293.61  up with +0.96% percent or +116.38 point. France's CAC 40 is trading at 5,330.42 up with +1.04% percent or  +54.78 point. The Stoxx Europe 600 is trading at 380.03 up with +0.84% percent or +3.22 point.
Friday's Factors and Events
U.S. stock index futures pointed to a higher open on Friday, but were still headed for weekly losses as the underlying market sentiment was soured by anxiety over global trade frictions.
Dow Jones Industrial Average futures rose 101 points, indicating a gain of 119.95 points at the open. S&P 500 and Nasdaq 100 futures also pointed to strong gains at the open.
Bank shares moved higher before the bell after announcing buybacks and dividend hikes following the Federal Reserve's annual stress test. Bank of America, Citigroup and J.P. Morgan Chase all rose at least 1 percent before the bell. Wells Fargo surged 3.6 percent
For the day the Dow is trading at 24,216.05 up with +0.41% percent or +98.46 point. The S&P 500 is trading at 2,716.31  up with +0.62% percent or  +16.68 point. The Nasdaq Composite is trading at 7,503.68 up with +0.79% percent or +58.60 point.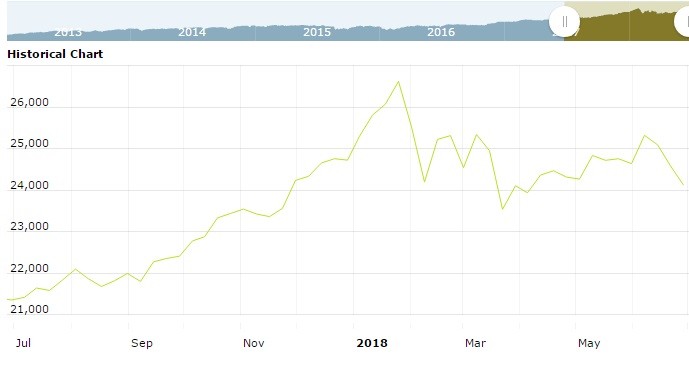 Other leading market index closes included the small-cap Russell 2000 Index closed at 1,645.02 up with +0.28% percent or +4.56 point; the S&P 600 Small-Cap Index closed at 1,020.22 up with +0.28% percent or +2.86  point; the S&P 400 Mid-Cap Index closed at 1,950.37 up with +0.39% percent or  +7.56 point; the S&P 100 Index closed at 1,194.20 up with +0.76% percent or +8.95 point; the Russell 3000 Index closed at 1,617.96 up with +0.60%percent or +9.57 point; the Russell 1000 Index closed at 1,508.77 up with +0.62% percent or  +9.33 point;