U.S. stock futures higher  in pre-market trading for Tuesday, August 28.The Dow Futures is trading at 26,101.00  up with  +0.09% percent or  +24.00 point. The S&P 500 Futures is trading at 2,901.25  up with +0.09% percent or  +2.75 point.The Nasdaq Futures is trading at 7,581.75  up with +0.18% percent or +13.75 point.
In overnight trading in the Eastern Hemisphere, Japan's Nikkei 225 is trading at 22,813.47 up with +0.061% percent or +13.83 point. Hong Kong's Hang Seng is trading at 28,344.10 up with +0.26% percent or  +72.83 point. China's Shanghai Composite is trading at 2,777.98 with a loss of -0.10% percent or -2.92  point. India's BSE Sensex is trading at 38,874.94  up with +0.47% percent or  +180.83  point at 12:15 PM.The FTSE 100 is trading at 7,604.95  up with +0.36% percent or +27.46 point. Germany's DAX is trading at 12,559.54 up  with +0.17% percent or +21.23  point. France's CAC 40 is trading at 5,493.64 up with +0.27% percent or +14.54 point. The Stoxx Europe 600 is trading at 385.87 up with +0.08% percent or +0.30  point.
Tuesday's Factors and Events
U.S. stock index futures fluctuated ahead of Tuesday's open, as investors kept an eye on news coming out of the political space.
Markets in Asia and Europe tried for gains Tuesday, digesting news that the U.S. and Mexico had secured a new trade deal on Monday,which would look to replace NAFTA, an accord that currently includes both countries and Canada.
According to President Donald Trump, this pact would be named "The United States-Mexico Trade Agreement"; and will last for 16 years, with it being placed under review every six years. Negotiations with Canada has yet to commence, but the U.S. leader added that if Canada chose to negotiate fairly, the U.S. would be open to that.
U.S. market were higher on Monday.For the day the Dow is trading at 26,049.64 up with +1.01% percent or +259.29 point. The S&P 500 is trading at 2,896.74 up with +0.77%percent or +22.05 point. The Nasdaq Composite is trading at 8,017.90 up with +0.91% percent or +71.92  point.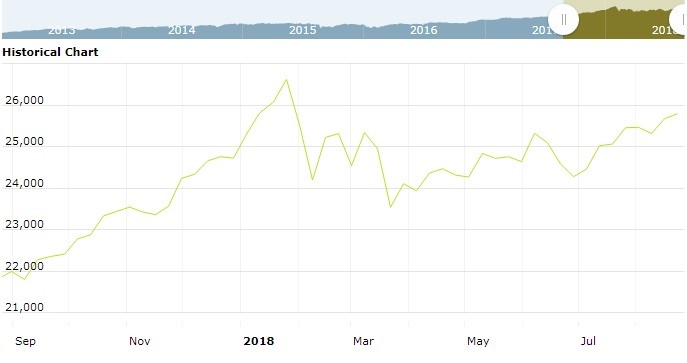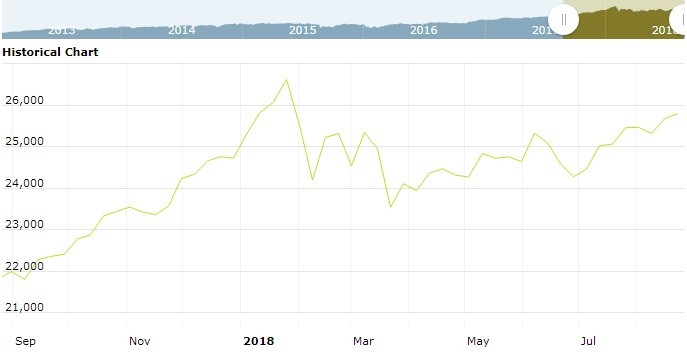 Other leading market index closes included the small-cap Russell 2000 Index closed at 1,728.41 up with +0.16% percent or +2.73 point; the S&P 600 Small-Cap Index closed at 1,092.96 up with +0.13% percent or +1.41 point; the S&P 400 Mid-Cap Index closed at 2,044.06 up with +0.44% percent or +8.96 point; the S&P 100 Index closed at 1,283.45 up with +0.87% percent or +11.02 point; the Russell 3000 Index closed at 1,722.13 up with +0.70% percent or +11.99 point; the Russell 1000 Index closed at 1,607.64  up with +0.75% percent or +11.91 point;