U.S. stock futures lower  in pre-market trading for , November 13.The Dow Futures is trading at 25,428.00 up with +0.19% percent or +47.00 point.  The S&P 500 Futures is trading at 2,735.25  up with +0.27% percent or +7.50 point.The Nasdaq Futures is trading at 6,864.00 up with  +0.41% percent or +28.00 point.
In overnight trading in the Eastern Hemisphere, Japan's Nikkei 225 is trading at 21,810.52   with a loss of -2.06% percent or -459.36 point. Hong Kong's Hang Seng is trading at 25,564.58   with a loss of -0.27% percent or -68.60 point. China's Shanghai Composite is trading at 2,650.94 up  with +0.78% percent or  +20.42 point. India's BSE Sensex is trading at 34,878.74 up with +0.19% percent or +65.75 point at 12:15 PM.The FTSE 100 is trading at 7,064.67 up with  +0.16% percent or +11.59 point. Germany's DAX is trading at 11,395.99 up with +0.62% percent or +70.55 point. France's CAC 40 is trading at 5,065.76  up with +0.13%  percent or +6.67 point. The Stoxx Europe 600 is trading at 363.11 up with +0.30%percent or +1.08 point.
Tuesday's Factors and Events
Separately, oil prices fell by around 1 percent Tuesday, with Brent crude slipping below the $70-per-barrel mark and U.S. West Texas Intermediate crude dropping below the $60 threshold. Trump on Monday said he hoped the Organization of Petroleum Exporting Countries (OPEC) would not cut oil production in order to lift prices.
Saudi Arabia's Energy Minister Khalid al-Falih had said earlier that day that OPEC agreed there was a need to cut oil supply next year by around 1 million barrels per day (bpd) from October levels.
Monday's Activity
For the day the Dow is trading at 25,387.18  with a loss of -2.32% percent or  -602.12 point. The S&P 500 is trading at 2,726.22 with a loss of -1.97% percent or -54.79 point. The Nasdaq Composite is trading at 7,200.87 with a loss of -2.78% percent or -206.03  point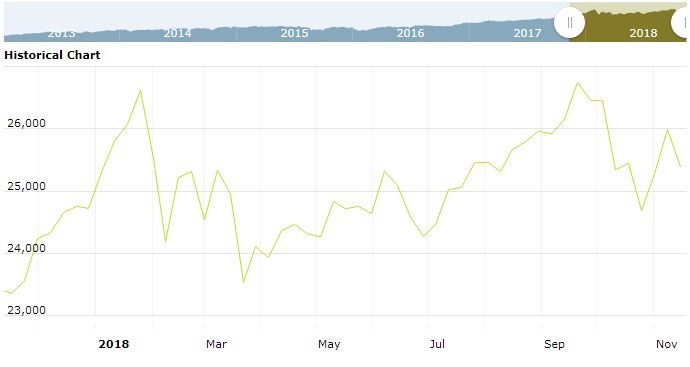 Other leading market index closes included the small-cap Russell 2000 Index closed at 1,518.79  with a loss of -1.98% percent or -30.70 point; the S&P 600 Small-Cap Index closed at 955.08  with a loss of -1.81% percent or -17.57  point; the S&P 400 Mid-Cap Index closed at 1,852.25 with a loss of -1.61% percent or -30.29 point; the S&P 100 Index closed at 1,211.59 with a loss of  -2.08% percent or -25.76 point; the Russell 3000 Index closed at 1,604.97   with a loss of -1.97% percent or -32.26 point; the Russell 1000 Index closed at 1,505.42 with a loss of -1.97% percent or -30.24 point;