U.S. stock futures lower  in pre-market trading for , December 27.The Dow Futures is trading at 22,562.00  with a loss of  -1.36% percent or -310.00 point. The S&P 500 Futures is trading at 2,434.50  with a loss of -1.36% percent or -34.87 point.The Nasdaq Futures is trading at 6,172.75   with a loss of -1.67%percent or -105.13 point.
In overnight trading in the Eastern Hemisphere, Japan's Nikkei 225 is trading at 20,077.62  up with +3.88% percent or +750.56 point. Hong Kong's Hang Seng is trading at 25,557.57   with a loss of -0.37% percent or -93.81 point. China's Shanghai Composite is trading at 2,483.09  with a loss of -0.61% percent or  -15.21 point. India's BSE Sensex is trading at 35,908.16  with up +0.72% percent or +258.22 point at 12:15 PM.The FTSE 100 is trading at 6,641.36 with  a loss of  -0.67% percent or  -44.63 point. Germany's DAX is trading at 10,490.88   with a loss of -1.34% percent or -142.94 point. France's CAC 40 is trading at 4,635.06 up with +0.19% percent or +8.68 point. The Stoxx Europe 600 is trading at 333.25  with a loss of  —0.59% percent or -1.99 point.
Thursday's Factors and Events
Retailers were among the best performers on Wednesday, with the SPDR S&P Retail ETF (XRT) jumping 4.7 percent. Shares of Wayfair, Kohl's and Dollar General all rose more than 7 percent. Data released by Mastercard SpendingPulse showed retailers were having their best holiday season in six years. Amazon's stock also jumped 9.45 percent, snapping a four-day losing streak, after the company said it sold a record number of items this holiday season.
Wednesday's Activity
For the day the Dow is trading at 22,878.45  up with +4.98% percent or +1,086.25 point. The S&P 500 is trading at 2,467.70 up with  +4.96% percent or +116.60 point. The Nasdaq Composite is trading at 6,554.36  up with +5.84% percent or +361.44 point.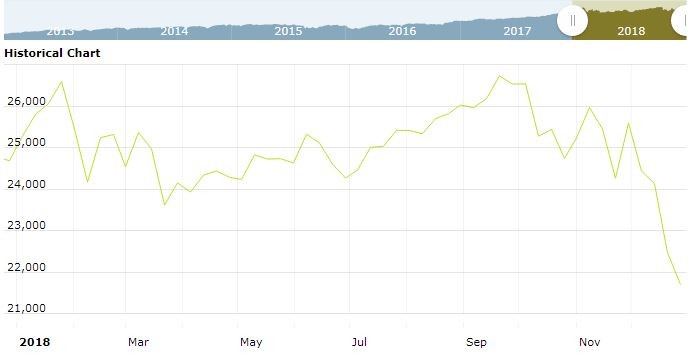 Other leading market index closes included the small-cap Russell 2000 Index closed at 1,329.81  up with +4.96% percent or +62.89 point; the S&P 600 Small-Cap Index closed at 831.88 up with +4.79% percent or +38.02  point; the S&P 400 Mid-Cap Index closed at 1,639.78  up with +4.62% percent or +72.38 point; the S&P 100 Index closed at 1,096.95 up with  +5.20% percent or +54.18 point; the Russell 3000 Index closed at 1,449.16  up with +2.19% percent or +31.11 point; the Russell 1000 Index closed at 1,362.48  up with +2.14% percent or +28.53 point;