U.S. stock futures higher  in pre-market trading for , February 22.The Dow Futures is trading at 25,950.50 up with +0.45% percent or +117.50 point.The S&P 500 Futures is trading at 2,785.62  up with +0.41% percent or +11.37 point.The Nasdaq Futures is trading at 7,072.00 up with +0.53% percent or +37.50 point.
In overnight trading in the Eastern Hemisphere,  Japan's Nikkei 225 is trading at 21,464.23 up with +0.15% percent or +32.74 point. Hong Kong's Hang Seng is trading at 28,578.20  up with +0.22% percent or +64.15 point. China's Shanghai Composite is trading at 2,748.62   with a loss of -0.46% percent or -12.60 point. India's BSE Sensex is trading at 35,851.25 up with +0.27% percent or +94.99 point at 12:15 PM.The FTSE 100 is trading at 7,195.03 up with +0.39% percent or +27.64 point. Germany's DAX is trading at 11,488.70  up with +0.57% percent or +65.42 point. France's CAC 40 is trading at 5,213.93  up with  +0.34% percent or +17.82 point. The Stoxx Europe 600 is trading at 371.35  up with +0.25% percent or +0.86 point.
Friday's Factors and Events
market players also monitored the latest round of negotiations between Washington and Beijing. Optimism has risen over the chances of both countries securing a deal to end their protracted trade war, but some experts say the most difficult part is yet to come as high level talks continue into Friday.
One of President Donald Trump's biggest contentions with Beijing is the claim that the country has stolen intellectual property and trade secrets from American companies. Both nations are a week away from a March 1 deadline to secure a trade deal, however speculation has risen there may be an extension to that target.
Thursday's Activity
For the day the Dow is trading at 25,954.44 up with +0.24% percent or +63.12 point. The S&P 500 is trading at 2,784.70 up with  +0.18% percent or +4.94 point. The Nasdaq Composite is trading at 7,489.07 up with +0.031% percent or +2.30 point.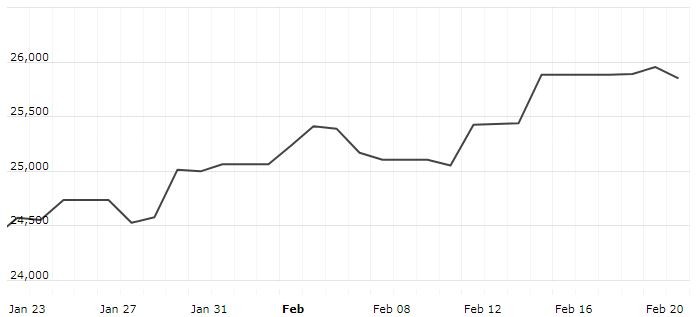 Other leading market index closes included the small-cap Russell 2000 Index closed at 1,575.55 with a loss of -0.39% percent or -6.11 point; the S&P 600 Small-Cap Index closed at 982.95  with a loss of -0.50% percent or -4.92  point; the S&P 400 Mid-Cap Index closed at 1,918.36  with a loss of -0.35% percent or -6.76 point; the S&P 100 Index closed at 1,217.44  with a loss of -0.35% percent or -4.30 point; the Russell 3000 Index closed at 1,643.23  with a loss of -0.36% percent or -5.88 point; the Russell 1000 Index closed at 1,539.67 with a loss of -0.35% percent or -5.47 point.