U.S. stock futures higher in pre-market trading for,October 22.The Dow Futures is trading at 26,821.50  up with +0.09% percent or +24.50 point. The S&P 500 Futures is trading at 2,994.62  up with +0.21% percent or +6.37 point. The Nasdaq Futures is trading at 7,956.88 up with +0.11% percent or +8.63 point.

In overnight trading in the Eastern Hemisphere,In other parts of world, Japan's Nikkei 225 is trading at 22,548.90 up with +0.25% percent or +56.22 point. Hong Kong's Hang Seng is trading at 26,799.53 up with +0.28% percent or +73.85 point. China's Shanghai Composite is trading at 2,953.82 up with +0.48% percent or +14.20  point. India's BSE Sensex is trading at 39,299.48 up with +0.0028% percent or +1.10 point at 12:15 PM.Germany's DAX is trading at 12,763.26 up with +0.12% percent or  +15.30 point. France's CAC 40 is trading at 5,649.35 up with +0.018% percent or +1.01 point. The Stoxx Europe 600 is trading at 394.48  up with +0.07% percent or +0.26  point.
Tuesday's Factors and Events
With trade negotiations between the U.S. and China under way, investors will likely train their eyes on a deluge of corporate results, including nearly one-fourth of the S&P 500 components over the week and four Dow components which are due to report early Tuesday.
Wall Street will be watching for signs of stress from the Sino-American trade battle amid evidence of economic weakness that have gripped much of the developed world.
Monday Activity
For the day the Dow is trading at 26,827.64 up with +0.21% percent or +57.44  point. The S&P 500 is trading at 3,006.72 up with +0.69% percent or +20.52 point. The Nasdaq Composite is trading at 8,162.99 up with +0.91% percent or +73.44 point.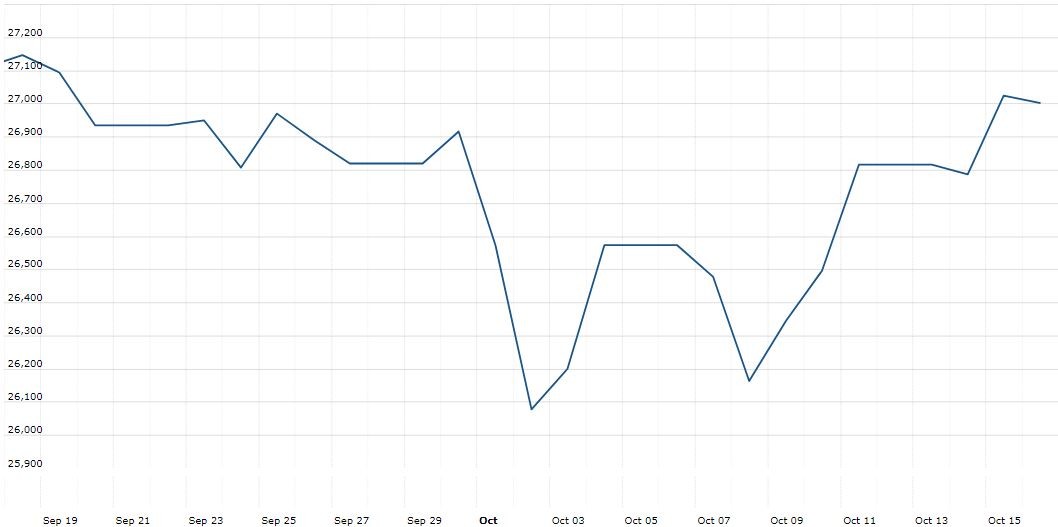 Other leading market index closes included the small-cap Russell 2000 Index closed at 1,550.14 up with +0.95% percent or +14.66 point; the S&P 600 Small-Cap Index closed at 958.85 up with +0.89% percent or +8.48 point; the S&P 400 Mid-Cap Index closed at 1,947.66 up with +0.56% percent or +10.90 point; the S&P 100 Index closed at 1,331.59 up with +0.76% percent or +9.98 point; the Russell 3000 Index closed at 1,760.19 up with +0.69%  percent or +12.12 point; the Russell 1000 Index closed at 1,659.83 up with +0.68%  or +11.13  point.