U.S. stock futures are lower in pre-market trading for Monday, July 31.The Dow Futures are trading at 21,827.50 for up with +0.24% percent or +52.50 point. The S&P 500 Futures are trading at 2,473.00 for up with +0.11% percent or +2.75 point.The Nasdaq Futures are trading at 5,921.62 for up with +0.19% percent or +12.25 point.
In overnight trading in the Eastern Hemisphere,  Japan's Nikkei 225 are trading at 19,925.18 with a loss of –0.17% percent or –34.66 point. Hong Kong's Hang Seng are trading at 27,295.29 for up with  +1.17% percent or  +315.90 point. China's Shanghai Composite are trading at 3,273.03 for up with +0.61% percent or +19.79 point. India's S&P BSE Sensex are trading at 32,469.11 with a loss of  –0.49% percent or –159.23point at 12:15 PM. In Europe, the FTSE 100 are trading at 7,396.13 for up with   +0.38% percent or +27.76 point. Germany's DAX are trading at 12,207.10 for up with  +0.37% percent or +44.40 point. France's CAC 40 are trading at 5,138.12 for up with +0.13% percent or  +6.73 point. The Stoxx Europe 600 are trading at 379.71 for up  with +0.36% percent or +1.35 point.
Monday's Factors and Events
Wall Street futures pointed to a higher open on Monday, suggesting the Dow could close at another record high as it looked to wrap up July with monthly gains of more than 2% and investors continued to concentrate on earnings news and watch developments with North Korea.
The blue-chip Dow futures gained 48 points, or 0.22%, at 7:20AM ET (11:20GMT), the S&P 500 futures rose 3 points, or 0.12%, while the tech-heavy Nasdaq 100 futures traded up 15 points, or 0.25%.
Although last week was the busiest of the second quarter reporting season with 189 S&P firms releasing numbers, the flow will continue this week with reports from big names such as Apple (NASDAQ:AAPL), Pfizer (NS:PFIZ) (NYSE:PFE), Time Warner Inc (NYSE:TWX) or Tesla (NASDAQ:TSLA) as another 133 companies on the global stock benchmark continue to pump out figures in the next five days.
U.S. market indexes were mixed on Friday. For the day The Dow Jones Industrial Average closed at 21,830.31 for up with +0.15% percent or +33.76 point. The S&P 500 closed at 2,472.10 with a loss of –0.13% percent or –3.32 point.The Nasdaq Composite closed at 6,374.68 with a loss of –0.12% percent or –7.51 point.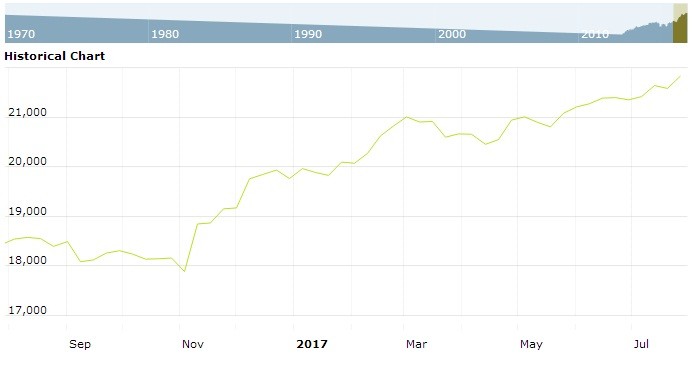 Other leading market index closes included the small-cap Russell 2000 Index closed at 1,429.26 with a loss of -0.30% percent or -4.36 point; the S&P 600 Small-Cap Index closed at 865.00 with a loss of –0.19% percent or –1.69 point; the S&P 400 Mid-Cap Index closed at 1,762.34 with a loss of –0.49% percent or –8.68 point; the S&P 100 Index closed at 1,089.53 with  a loss of  –0.25% percent or  –2.72 point; the Russell 3000 Index closed at 1,463.64 with a loss of –0.15% percent or –2.24 point; the Russell 1000 Index closed at 1,369.58 with a loss of –0.14% percent or –1.93 point; and the Dow Jones U.S. Select Dividend Index closed at 21,830.31 for up with +(0.15% percent or +33.76 point