U.S. stock futures are higher in pre-market trading for Wednesday, November 16. The Dow Futures are trading at 23,319.50 for up with  of  +0.25% percent or +55.00 point. The S&P 500 Futures are trading at 2,573.62 for up with +0.34% percent or +8.62 point. The Nasdaq Futures are trading at 6,291.63 for up with +0.41% percent or +25.38 point.
In overnight trading in the Eastern Hemisphere, Japan's Nikkei 225 are trading at 22,351.12 for up with +1.47% percent or +322.80 point. Hong Kong's Hang Seng are trading at 29,051.04 for up with +0.69% percent or  +199.35 point. China's Shanghai Composite are trading at 3,399.25 with a loss of –0.10% percent or –3.27 point. India's BSE Sensex are trading at 33,006.78 for up with +0.75% percent or +246.34  point at 12:15 PM.The FTSE 100 are trading at 7,373.84 for up  with  +0.02% percent or +1.23 point. Germany's DAX are trading at 13,048.80 for up with   +0.56% percent or +72.38 point. France's CAC 40 are trading at 5,336.68 for up with +0.67% percent or +35.43 point. The Stoxx Europe 600 are trading at 384.61 for up  with + 0.70% percent or  +2.59 point.
Thursday's Factors and Events
U.S. stock index futures pointed to a higher open Thursday, bouncing back from yesterday's weak trading session, as investors switched focus to a huge batch of data and corporate earnings.
Dow Jones industrial average futures rose 50 points, while S&P 500 and Nasdaq 100 futures gained 8.25 points and 25.75 points, respectively.
On Thursday, markets worldwide showed signs of bouncing back after coming under pressure in the previous trading session. Not only were U.S. futures edging higher, but stocks in Europe were trading in the black, while markets in Asia finished mostly higher.
Wednesday's Activity
U.S. market were lower on Wednesday. For the day the Dow Jones Industrial Average closed at 23,271.28 with a loss of  –0.59% percent or  –138.19 point. The S&P 500 closed at 2,564.62 with a loss of  –0.55% percent or –14.25 point. The Nasdaq Composite closed at 6,706.21 with a loss of  –0.47% percent or  –31.66 point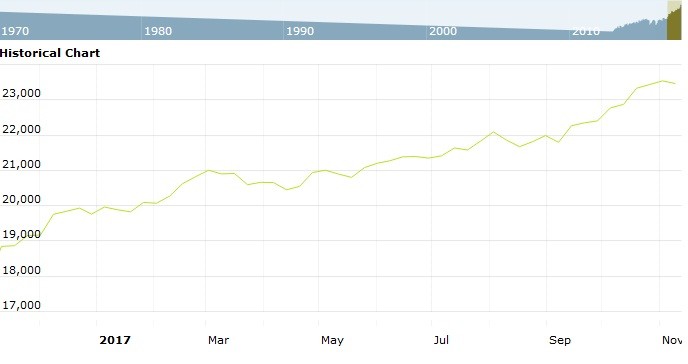 Other leading market index closes included the small-cap Russell 2000 Index closed at 1,464.09 with a loss of  -0.49% percent or –7.16 point; the S&P 600 Small-Cap Index closed at 889.94 with a loss of  –0.54% percent or –4.80 point; the S&P 400 Mid-Cap Index closed at 1,818.05 with a loss of  –0.48% percent or –8.75 point; the S&P 100 Index closed at 1,130.74 with a loss of –0.53% percent or –6.00 point; the Russell 3000 Index closed at 1,517.09 with a loss of  –0.54% percent or  –8.17 point; the Russell 1000 Index closed at 1,420.93 with a loss of  –0.54% percent or –7.71 point; and the Dow Jones U.S. Select Dividend Index closed at 23,271.28 with a loss of –0.59% percent or  –138.19 point