U.S. stock futures are higher in pre-market trading for Wednesday, March 07.The Dow Futures are trading at 24,546.00  with a loss of -1.23% percent or -306.00 point. The S&P 500 Futures are trading at 2,697.50 with a loss of -0.97%  percent or -26.50 point.The Nasdaq Futures are trading at 6,845.25  with a loss of -0.97% percent or -67.00 point.
In overnight trading in the Eastern Hemisphere, Japan's Nikkei 225 are trading at 21,252.72   with  a loss of  -0.77% percent or  -165.04 point. Hong Kong's Hang Seng are trading at 30,238.55  with a loss of -0.89% percent or  -272.18 point. China's Shanghai Composite are trading at 3,271.67  with  a loss of -0.55% percent or  -17.97 point. India's BSE Sensex are trading at 33,146.28 with  a loss of -0.51% percent or  -170.92  point at 12:15 PM.The FTSE 100 are trading at 7,146.84   with 0.00% percent or  +0.09 point. Germany's DAX are trading at 12,070.25  with a loss of -0.36% percent or -43.62 point. France's CAC 40 are trading at 5,144.68  with a loss of -0.49% percent or -25.54 point. The Stoxx Europe 600 are trading at 370.01  with a loss of -0.34% percent or -1.30 point.
Wednesday's Factors and Events
The major averages traded lower earlier in the session after Bloomberg News reported citing sources that Trump was convinced Cohn would leave the administration if the tariffs proposed by the president were implemented.
"If you have a high-profile person like Gary Cohn leaving, that starts to send things into a tailspin in government and the market is concerned about that," said Robert Pavlik, chief investment strategist at SlateStone Wealth. "The Cohn news is causing investors to take a wait-and-see approach.
Trump announced last week the U.S. would be imposing new tariffs on aluminum and steel, before going onto threaten European carmakers with a tax on imports if the European Union retaliated over the U.S. administration's tariff plans.
Tuesday's Activity
U.S. market were higher on Tuesday. For the day the Dow Jones Industrial Average closed at 24,884.12  for up with  +0.04% percent or +9.36 point. The S&P 500 closed at 2,728.12  for up with +0.26% percent or +7.18 point. The Nasdaq Composite closed at 7,372.01 for up with +0.56% percent or  +41.30 point.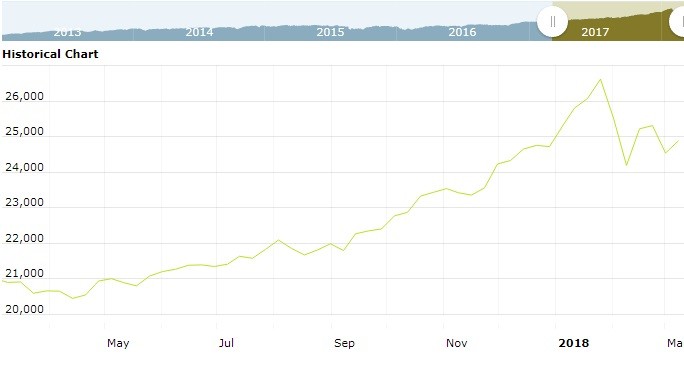 Other leading market index closes included the small-cap Russell 2000 Index closed at 1,562.20  for up with +1.04% percent or +16.16 point; the S&P 600 Small-Cap Index closed at 949.83  for up  with +1.10% percent or +10.37 point; the S&P 400 Mid-Cap Index closed at 1,916.99 for up with  +1.02% percent or +19.32 point; the S&P 100 Index closed at 1,202.54  for up with +0.05% percent or +0.65 point; the Russell 3000 Index closed at 1,614.57  for up with +0.37% percent or +5.96 point; the Russell 1000 Index closed at 1,511.92  for up with +0.32% percent or +4.76 point; and the Dow Jones U.S. Select Dividend Index closed at 24,884.12  for up  with +0.04% percent or  +9.36 point