U.S. stock futures lower in pre-market trading for Monday, June 18. The Dow Futures is trading at 24,926.00  with a loss of  -0.73% percent or -183.00 point.The S&P 500 Futures is trading at 2,767.50 with a loss of  -0.61% percent or -17.00 point.The Nasdaq Futures is trading at 7,230.00 with a loss of -0.71% percent or -50.75 point.
In overnight trading in the Eastern Hemisphere,Japan's Nikkei 225 is trading at 22,680.33  with a loss of -0.75% percent or -171.42 point. Hong Kong's Hang Seng is trading at 30,309.49 with a loss of -0.43% percent or -130.68 point. China's Shanghai Composite is trading at 3,021.90 with  a loss of -0.73%  percent or -22.26  point. India's BSE Sensex is trading at 35,607.38 with a loss of -0.041% percent or  -14.76 point at 12:15 PM.The FTSE 100 is trading at 7,606.10  with a loss of -0.37% percent or -27.91 point. Germany's DAX is trading at 12,832.39 with  a loss of -1.37% percent or -178.16 point. France's CAC 40 is trading at 5,433.42 with a loss of -1.24% percent or -68.46 point. The Stoxx Europe 600 is trading at 385.12 with a loss of  -1.02% percent or -3.97 point.
Monday's Factors and Events
U.S. stock index futures fell sharply ahead of Monday's open amid heightened trade tensions between the U.S. and China, the two largest economies in the world.
At 7:42 a.m. ET, Dow Jones industrial average futures dropped 203 points, indicating a negative open of 204.48 points. Nasdaq 100 and the S&P 500 futures also indicated a negative start to the session for their respective markets.
Shares of Boeing and Caterpillar both fell 1 percent in the premarket. The two companies are seen as bellwethers for global trade concerns given their large amounts of overseas business.
U.S. market were lower on Friday.For the day the Dow is trading at 25,090.48 with  a loss of -0.34% percent or -84.83 point. The S&P 500 is trading at 2,779.66 with a loss of -0.10% percent or  -2.83 point. The Nasdaq Composite is trading at 7,746.38 with a loss of 0.19% percent or -14.66 point.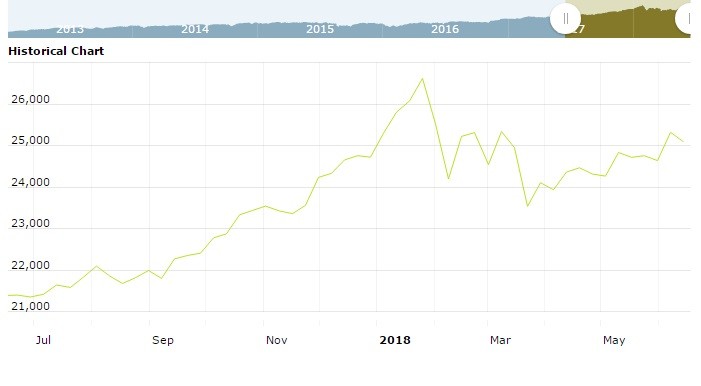 Other leading market index closes included the small-cap Russell 2000 Index closed at 1,683.91  with a loss of -0.048% percent or -0.82 point; the S&P 600 Small-Cap Index closed at 1,039.54 up with +0.043% percent or +0.45  point; the S&P 400 Mid-Cap Index closed at 1,992.37  with a loss of -0.17% percent or -3.33 point; the S&P 100 Index closed at 1,220.26 with a loss of -0.12% percent or -1.52 point; the Russell 3000 Index closed at
1,656.18 with a loss of  -0.087% percent or -1.45 point; the Russell 1000 Index closed at 1,544.43 with a loss of -0.091%  percent or  -1.40 point;