U.S. stock futures lower in pre-market trading for Friday, July 06.The Dow Futures is trading at 24,270.00 with a loss of -0.30% percent or -73.00 point. The S&P 500 Futures is trading at 2,734.50 with a loss of -0.15% percent or -4.00 point.The Nasdaq Futures is trading at 7,113.50 with a loss of -0.17% percent or -11.25 point.
In overnight trading in the Eastern Hemisphere, Japan's Nikkei 225 is trading at 21,788.14 up with +1.12% percent or +241.15 point. Hong Kong's Hang Seng is trading at 28,324.14 up with +0.50% percent or 142.05 point. China's Shanghai Composite is trading at 2,747.23 up with +0.49% percent or +13.35 point. India's BSE Sensex is trading at 35,744.68 up with +0.47% percent or  +167.51 point at 12:15 PM.The FTSE 100 is trading at 7,578.47  with  a loss of -0.33% percent or -24.75 point. Germany's DAX is trading at 12,473.56  up with +0.074% percent or +9.27 point. France's CAC 40 is trading at 5,365.54  with a loss of  -0.015% percent or  -0.78 point. The Stoxx Europe 600 is trading at 381.26 with a loss of  -0.09% percent or -0.28 point.
Friday's Factors and Events
U.S. stock index futures fell on Friday as a trade war between the United States and China kicked off.
Around 7:05 a.m. ET, Dow Jones Industrial Average futures slipped 80 points, indicating a negative open of 74 points. Nasdaq 100 and the S&P 500 futures also indicated a relatively downbeat start to their respective trading sessions.
U.S. tariffs on $34 billion of Chinese goods came into effect earlier on Friday. China responded to the fresh tariffs by imposing its own retaliatory levies on imports from the States. A spokesperson for China's Ministry of Commerce stated Friday that while Beijing had refused to "fire the first shot," it was obligated to counter the U.S.' actions after Washington "launched the largest trade war in economic history."
For the day the Dow is trading at 24,356.74  up with +0.75% percent or +181.92 point. The S&P 500 is trading at 2,736.61  up with +0.86% percent or +23.39 point. The Nasdaq Composite is trading at 7,586.43 up with +1.12%percent or  +83.75 point.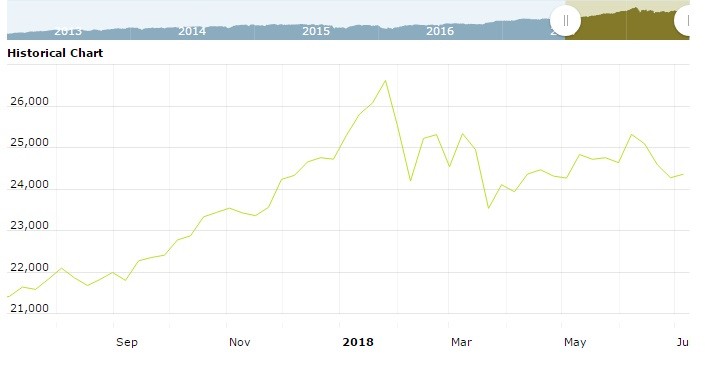 Other leading market index closes included the small-cap Russell 2000 Index closed at 1,679.48 up with +1.15% percent or +19.06 point; the S&P 600 Small-Cap Index closed at 1,041.56 up with +1.23% percent or +12.63 point; the S&P 400 Mid-Cap Index closed at 1,974.40 up with +0.87% percent or +17.05 point; the S&P 100 Index closed at 1,202.53 up with +0.90% percent or +10.77 point; the Russell 3000 Index closed at 1,632.17 up with +0.87% percent or +14.13  point; the Russell 1000 Index closed at 1,520.46 up with +0.85% percent or +12.81 point;