U.S. stock futures higher in pre-market trading for Tuesday, August 07.The Dow Futures is trading at 25,553.00 up with +0.33% percent or +85.00 point.The S&P 500 Futures is trading at 2,856.25 up with +0.22% percent or +6.25 point.The Nasdaq Futures is trading at 7,462.75 up with +0.25% percent or +18.75 point.
In overnight trading in the Eastern Hemisphere, Japan's Nikkei 225 is trading at 22,662.74 up with +0.69% percent or +155.42 point. Hong Kong's Hang Seng is trading at 28,227.13 up with +1.47% percent or  +407.57 point. China's Shanghai Composite is trading at 2,779.37  up with +2.74% percent or +74.22  point. India's BSE Sensex is trading at 37,713.15 up with +0.056% percent or +21.26 point at 12:15 PM.The FTSE 100 is trading at 7,733.52 up with +0.91% percent or +69.74 point. Germany's DAX is trading at 12,715.38 up with +0.93% percent or +117.17 point. France's CAC 40 is trading at 5,522.40  up with +0.83% percent or +45.23 point. The Stoxx Europe 600 is trading at 391.10 up with +0.63% percent or +2.44 point.
Tuesday's Factors and Events
U.S. stock index futures rose on Tuesday as equities move closer to record highs set earlier this year.
The Cboe Volatility Index (VIX), considered to be the best fear gauge in the market, fell to 11.02, around its lowest level since January.
Stock futures were buoyed by positive sentiment overseas. Markets in the Asian-Pacific and European regions were mostly higher on Tuesday, as fresh corporate earnings came out and concerns surrounding trade tensions alleviated somewhat.
For the day the Dow is trading at 25,502.18 up with +0.16% percent or +39.60 point. The S&P 500 is trading at 2,850.40 up with +0.35% percent or +10.05 point. The Nasdaq Composite is trading at 7,859.68 up with +0.61% percent or +47.66 point.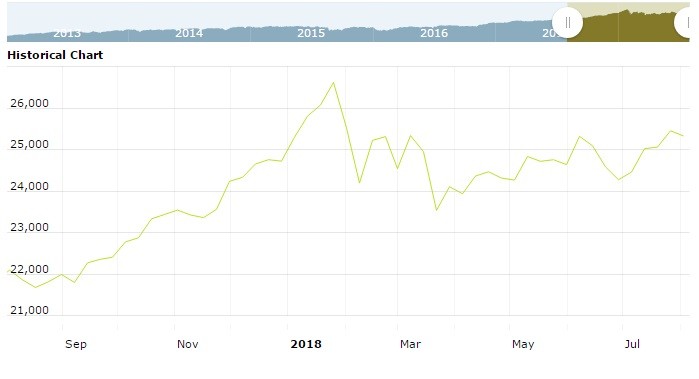 Other leading market index closes included the small-cap Russell 2000 Index closed at 1,684.31 up with +0.65% percent or +10.94 point; the S&P 600 Small-Cap Index closed at 1,061.52 up with 0.75% percent or +7.91 point; the S&P 400 Mid-Cap Index closed at 2,009.50 up with +0.47% percent or +9.46 point; the S&P 100 Index closed at 1,262.57 up  with +0.43% percent or +5.38 point; the Russell 3000 Index closed at 1,691.85 up with +0.41% percent or +6.83 point; the Russell 1000 Index closed at 1,580.44 up with +0.38% percent or +6.06 point;