U.S. stock futures higher  in pre-market trading for Tuesday, August 21.The Dow Futures is trading at 25,806.00 up with +0.19% percent or +48.00 point.The S&P 500 Futures is trading at 2,863.00 up with +0.16% percent or  +4.50 point. The Nasdaq Futures is trading at 7,402.25 up with +0.21% percent or +15.25 point.
In overnight trading in the Eastern Hemisphere, Japan's Nikkei 225 is trading at 22,219.73 up with +0.093% percent or +20.73 point. Hong Kong's Hang Seng is trading at 27,681.15 up with +0.30% percent or +83.13 point. China's Shanghai Composite is trading at 2,734.23 up with +1.33% percent or  +35.76  point. India's BSE Sensex is trading at 38,263.51  with a loss of -0.040% percent or -15.24 point at 12:15 PM.The FTSE 100 is trading at 7,585.49  with a loss of  -0.076% percent or -5.77 point. Germany's DAX is trading at 12,407.13  up with +0.61% percent or +75.83  point. France's CAC 40 is trading at 5,417.99 up with +0.71% percent or +38.35 point. The Stoxx Europe 600 is trading at 384.54 up with +0.34% percent or +1.32 point.
Tuesday's Factors and Events
Markets have been in wait-and-see mode over recent sessions, as reports emerge that a nine-member delegation from Beijing would hold meetings with officials from the States later on this week. The news, which was first reported by the Wall Street Journal, went onto add that this could lead to a potential meeting between the presidents of China and the U.S. later on in November this year.
U.S. market were higher on Monday.For the day the Dow is trading at 25,758.69 up  with +0.35% percent or +89.37 point. The S&P 500 is trading at 2,857.05  up with +0.24% percent or +6.92 point. The Nasdaq Composite is trading at 7,774.12 up with +0.060% percent or +4.68 point.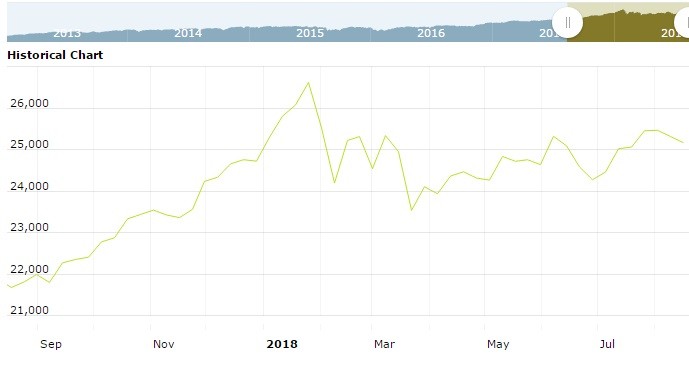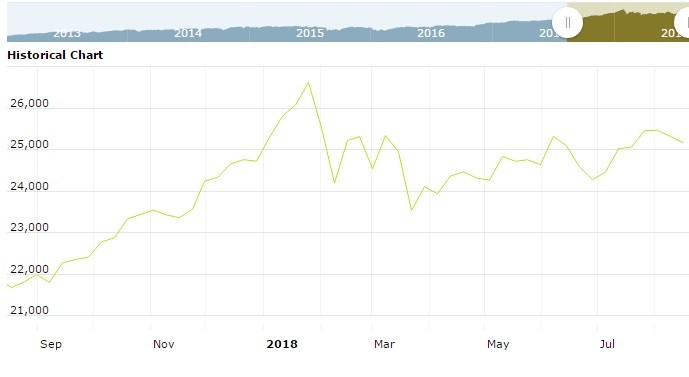 Other leading market index closes included the small-cap Russell 2000 Index closed at 1,698.69 up with +0.34% percent or +5.75 point; the S&P 600 Small-Cap Index closed at 1,076.42 up with +0.36% percent or + 3.83 point; the S&P 400 Mid-Cap Index closed at 2,018.44 up with +0.41% percent or +8.25 point; the S&P 100 Index closed at 1,264.24  up with +0.15% percent or +1.92 point; the Russell 3000 Index closed at 1,697.07  up with +0.26%percent or +4.44 point; the Russell 1000 Index closed at 1,584.60 up with +0.26% percent or +4.05 point;