U.S. stock futures higher  in pre-market trading for Monday, September 10.The Dow Futures is trading at 26,041.00  up with +0.32% percent or  +82.00 point.The S&P 500 Futures is trading at 2,885.00 up with +0.36% percent or +10.25 point. The Nasdaq Futures is trading at 7,477.50  up with +0.52% percent or +39.00 point.
In overnight trading in the Eastern Hemisphere, Japan's Nikkei 225 is trading at 22,373.09 up with +0.30% percent or +66.03 point. Hong Kong's Hang Seng is trading at 26,532.81   with a loss of -1.63% percent or  -440.66 point. China's Shanghai Composite is trading at 2,669.48  with  a loss of  -1.21% percent or -32.82 point. India's BSE Sensex is trading at 38,017.91 with a loss of  -0.97% percent or  -371.91 point at 12:15 PM.The FTSE 100 is trading at 7,298.32 up with +0.28% percent or +20.62 point. Germany's DAX is trading at 11,996.48 up with +0.31% percent or  +36.85  point. France's CAC 40 is trading at 5,275.20   up with  +0.44% percent or +22.99 point. The Stoxx Europe 600 is trading at 375.26  up with +0.40% percent or +1.49 point.
Monday's Factors and Events
Investors will also watch Washington's relationship with other major economies. Canada and the U.S. have yet to secure a deal that would replace the North American Free Trade Agreement (NAFTA). And on Friday, Trump told journalists that the U.S. had begun talks with Japan over trade, Reuters reported.
Atlanta Fed President Raphael Bostic is set to speak at an economic business luncheon, at the Albany State University in Georgia on Monday.
For the day the Dow is trading at 25,916.54  with a loss of -0.31% percent or -79.33 point. The S&P 500 is trading at 2,871.68  with a loss of -0.22% percent or -6.37 point. The Nasdaq Composite is trading at 7,902.54  with a loss of -0.25% percent or -20.18 point.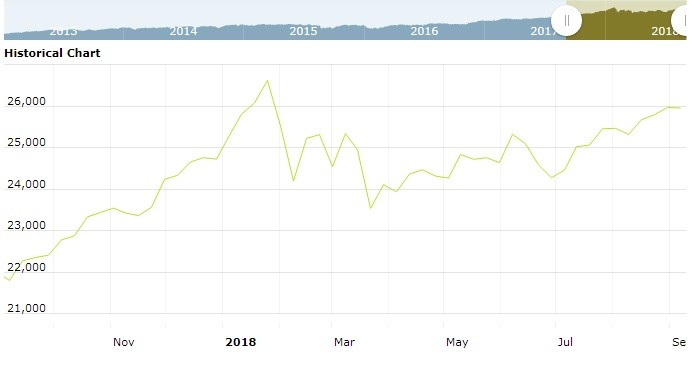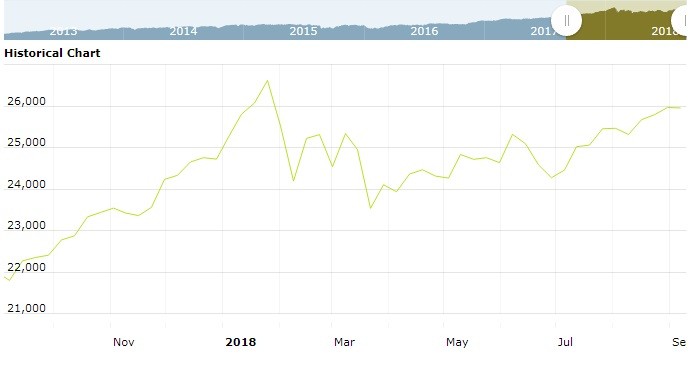 Other leading market index closes included the small-cap Russell 2000 Index closed at 1,713.18  with a loss of -0.075%  percent or -1.29  point; the S&P 600 Small-Cap Index closed at 1,081.15 with a loss of  -0.27% percent or -2.90 point; the S&P 400 Mid-Cap Index closed at 2,027.25 with a loss of -0.21% percent or -4.29 point; the S&P 100 Index closed at 1,271.27  with a loss of  -0.21% percent or -2.71 point; the Russell 3000 Index closed at 1,706.99 with a loss of -0.22% percent or -3.70 point; the Russell 1000 Index closed at 1,593.51  with a loss of -0.23% percent or -3.64 point;