U.S. stock futures lower  in pre-market trading for , October 11.The Dow Futures is trading at 25,301.00 with a loss of -0.85% percent or  -218.00 point.The S&P 500 Futures is trading at 2,760.00 with a loss of -0.76% percent or -21.00 point.The Nasdaq Futures is trading at 6,982.75 with a loss of -0.70% percent or -49.25 point.
In overnight trading in the Eastern Hemisphere, Japan's Nikkei 225 is trading at 22,590.86   with a loss of -3.89% percent or -915.18 point. Hong Kong's Hang Seng is trading at 25,379.07   with  a loss of -3.11% percent or -814.00 point. China's Shanghai Composite is trading at 2,583.46   with a loss of -5.22% percent or -142.38 point. India's BSE Sensex is trading at 34,265.37   with a loss of -1.43% percent or -495.52 point at 12:15 PM.The FTSE 100 is trading at 7,025.49 with a loss of  -1.68% percent or -120.25 point. Germany's DAX is trading at 11,566.68 with a loss of – 1.24% percent or -145.82 point. France's CAC 40 is trading at 5,122.93 with a loss of -1.60% percent or -83.28 point. The Stoxx Europe 600 is trading at 360.51 with a loss of -1.75% percent or -6.41 point.
Wednesday's Factors and Events
Both the Dow and S&P 500 posted their biggest one-day drops since early February, while the Nasdaq notched its largest single day sell-off since June 24, 2016.
Stocks have fallen sharply this month. For October, the S&P 500 and the Dow are down more than 4.4 percent and 3.3 percent, respectively. The Nasdaq, meanwhile, has lost more than 7.5 percent.
Rising rate fears and a pivot out of technology stocks have made it a rough last few days. The Dow has dropped four of the last five sessions.
For the day the Dow is trading at 25,598.74  with a loss of -3.15% percent or -831.83 point. The S&P 500 is trading at 2,785.68 with  a loss of -3.29% percent or -94.66 point. The Nasdaq Composite is trading at 7,422.05  with a loss of  -4.08% percent or -315.97 point.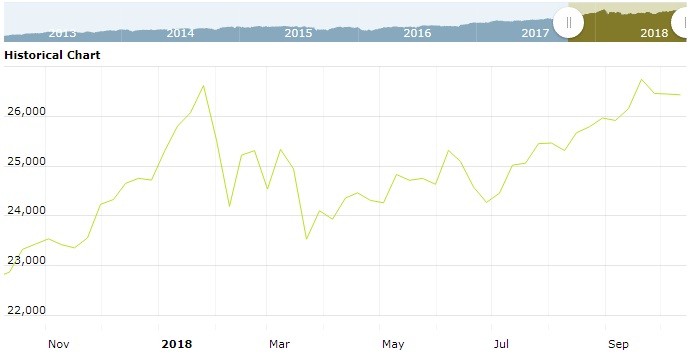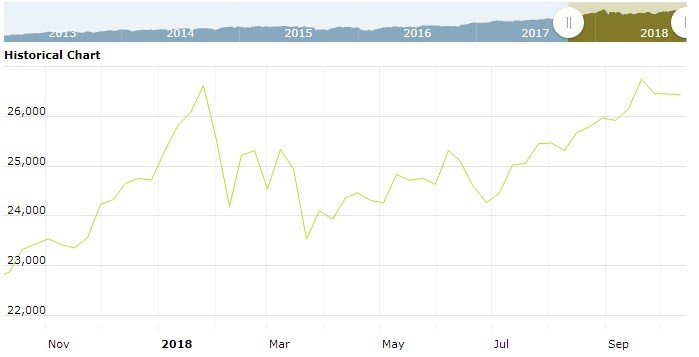 Other leading market index closes included the small-cap Russell 2000 Index closed at 1,575.41   with a loss of  -2.86% percent or ?46.45 point; the S&P 600 Small-Cap Index closed at 987.79   with a loss of -2.77% percent or  –28.15 point; the S&P 400 Mid-Cap Index closed at 1,905.43   with a loss of  -2.63% percent or -51.42 point; the S&P 100 Index closed at 1,239.83 with a loss of  -3.41% percent or  -43.77 point; the Russell 3000 Index closed at 1,642.77 with a loss of  -3.24% or  -55.06 point; the Russell 1000 Index closed at 1,539.26   with a loss of  -3.27% percent or  -52.08 point;