U.S. stock futures lower  in pre-market trading for , October 15.The Dow Futures is trading at 25,210.00 with a loss of  -0.42% percent or  -106.00 point.The S&P 500 Futures is trading at 2,755.00 with a loss of -0.49% percent or -12.75 point.The Nasdaq Futures is trading at 7,115.00  with a loss of -0.80% percent or -57.25 point.
In overnight trading in the Eastern Hemisphere, Japan's Nikkei 225 is trading at 22,271.30 with  a loss of  -1.87% percent or -423.36 point. Hong Kong's Hang Seng is trading at 25,463.64    with a loss of -1.31% percent or -337.85 point. China's Shanghai Composite is trading at 2,568.10   with a loss of  -1.49% percent or -38.81 point. India's BSE Sensex is trading at 34,743.09  up  with +0.027% percent or +9.51 point at 12:15 PM.The FTSE 100 is trading at 6,987.65  with  a loss of -0.12% percent or -8.26 point. Germany's DAX is trading at 11,550.38 up with +0.23% percent or +26.57 point. France's CAC 40 is trading at 5,082.51  with a loss of  -0.26% percent or -13.46 point. The Stoxx Europe 600 is trading at 358.04  with a loss of -0.25% percent or -0.93 point.
Monday's Factors and Events
U.S. stocks finished almost 300 points higher on Friday but still registered steep losses for the week as investors fretted over rising interest rates. The Dow and S&P 500 finished the previous trading week down more than 4 percent, while the Nasdaq posted a 3.7 percent weekly loss.
Investors blamed rapidly rising interest rates, concerns about technology stock valuations and a possible slowdown in the global economy for the selling. The 10-year Treasury yield hit a seven-year high of 3.26 percent last week.
For the day the Dow is trading at 25,339.99 up with +1.15% percent or +287.16 point. The S&P 500 is trading at 2,767.13 up with  +1.42% percent or +38.76 point. The Nasdaq Composite is trading at 7,496.89 up with +2.29% percent or +167.83 point.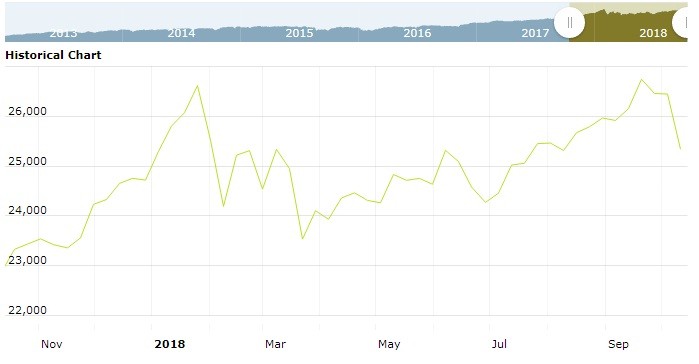 Other leading market index closes included the small-cap Russell 2000 Index closed at 1,546.68  with +0.084% percent or +1.30 point; the S&P 600 Small-Cap Index closed at 965.38 with a loss of  -0.19% percent or  -1.85 point; the S&P 400 Mid-Cap Index closed at 1,871.25  up with +0.24% percent or  +4.52 point; the S&P 100 Index closed at 1,233.66 up with +1.60% percent or  +19.37 point; the Russell 3000 Index closed at 1,630.57 up with +1.30% or  +20.87 point; the Russell 1000 Index closed at 1,529.15  up with +1.39% percent or  +21.01 point;