U.S. stock futures higher  in pre-market trading for , October 29.The Dow Futures is trading at 24,864.00 up with +0.48% percent or +118.00 point.The S&P 500 Futures is trading at 2,692.00  up with +0.84% percent or +22.50 point. The Nasdaq Futures is trading at 6,970.75  up with +1.12% percent or +77.50 point.
In overnight trading in the Eastern Hemisphere, Japan's Nikkei 225 is trading at 21,149.80 with a loss of -0.16% percent or -34.80 point. Hong Kong's Hang Seng is trading at 24,717.68 up with +0.00020% percent or +0.049 point. China's Shanghai Composite is trading at 2,544.10  with a loss of -2.11% percent or  -54.75 point. India's BSE Sensex is trading at 33,613.07  up with +0.79% percent or +263.76 point at 12:15 PM.The FTSE 100 is trading at 7,067.86 up with  +1.85% percent or +128.30 point. Germany's DAX is trading at 11,415.52 up  with  +1.92%percent or +214.90 point. France's CAC 40 is trading at 4,980.45  up with +0.26% percent or +13.09 point. The Stoxx Europe 600 is trading at 357.79  up with 1.53% percent or +5.34 point.
Monday's Factors and Events
U.S. stock index futures pointed to a sharply higher open Monday as Wall Street tries to regain its footing, though concerns over corporate earnings and global growth linger.
At around 7:30 a.m. ET, Dow Jones Industrial Average futures indicated a gain of 253.69 points at the open. Futures on the S&P 500 and Nasdaq 100 also pointed to solid gains at the open.
The moves in premarket trade come after a 3 percent drop on the Dow last week, which was capped off by a decline of nearly 300 points on Friday. The S&P 500 and Nasdaq Composite dropped 3.9 percent and 3.8 percent, respectively.
Friday's Activity
For the day the Dow is trading at 24,688.31  with a loss of -1.19% percent or  -296.24 point. The S&P 500 is trading at 2,658.69 with a loss of -1.73% percent or -46.88 point. The Nasdaq Composite is trading at 7,167.21  with a loss of -2.06% percent or -151.12 point.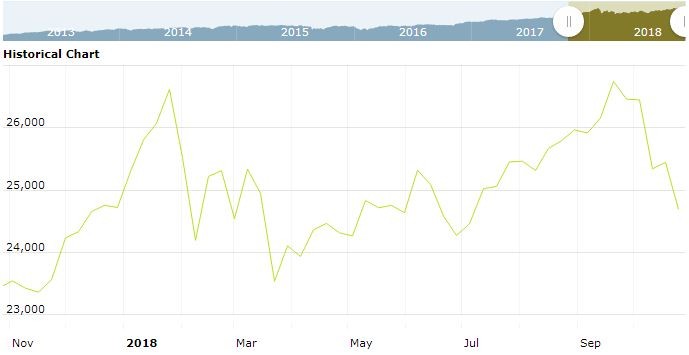 Other leading market index closes included the small-cap Russell 2000 Index closed at 1,483.82  with a loss of -1.10% percent or -16.58 point; the S&P 600 Small-Cap Index closed at 932.15  with a loss of -0.97% percent or -9.11  point; the S&P 400 Mid-Cap Index closed at 1,795.10  with a loss of -1.06% percent or -25.38 point; the S&P 100 Index closed at 1,189.06   with a loss of -1.82% percent or -22.05 point; the Russell 3000 Index closed at 1,565.94  with a loss of  -1.65% percent or -26.27 point; the Russell 1000 Index closed at 1,468.66  with a loss of -1.69% percent or -26.27 point;