U.S. stock futures lower  in pre-market trading for , November 22.The Dow Futures is trading at 24,406.00  with a loss of  -0.24% percent or +59.00 point. The S&P 500 Futures is trading at 2,643.75 with a loss of  -0.20% percent or -5.50 point.  The Nasdaq Futures is trading at 6,553.75  with  a loss of -0.34% percent or -22.50 point.
In overnight trading in the Eastern Hemisphere,Japan's Nikkei 225 is trading at 21,646.55 up with +0.65% percent or+139.01 point. Hong Kong's Hang Seng is trading at 26,067.30 up with +0.38% percent or +94.08 point. China's Shanghai Composite is trading at 2,645.43  with a loss of -0.23% percent or  -6.07 point. India's BSE Sensex is trading at 35,179.41  with a loss of -0.053% percent or -18.80 point at 12:15 PM.The FTSE 100 is trading at 6,950.23  with  a loss of -1.42% percent or -100.00 point. Germany's DAX is trading at 1,179.74  with a loss of  -0.57% percent or -64.43 point. France's CAC 40 is trading at 4,948.43 with a loss of -0.54% percent or -27.07  point. The Stoxx Europe 600 is trading at 353.05 with a loss of -0.56% percent or -2.03  point.
Thursday's Factors and Events
These tech shares, which are part of the popular "FAANG" trade, have been under pressure recently. Through Tuesday's close, they were all down more than 20 percent from their 52-week highs, officially in a bear market. The sharp decline in tech helped send the Dow, S&P 500 and Nasdaq all down at least 3 percent for the week.
"Tech stocks have featured prominently in recent equity weakness," Mark Haefele, a strategist at UBS Global Wealth Management Chief Investment Office, said in a note. "But we think it's important to discriminate within tech. The weakness is being driven by slower growth in the consumer IT sector, but the outlook for the enterprise IT sector, which makes up the majority of global tech, is more robust."
Wednesday's Activity
For the day the Dow is trading at 24,464.69  with a loss of -0.0039% percent or  -0.95 point. The S&P 500 is trading at 2,649.93 up with +0.30% percent or +8.04 point. The Nasdaq Composite is trading at 6,972.25  up with +0.92% percent or +63.43  point.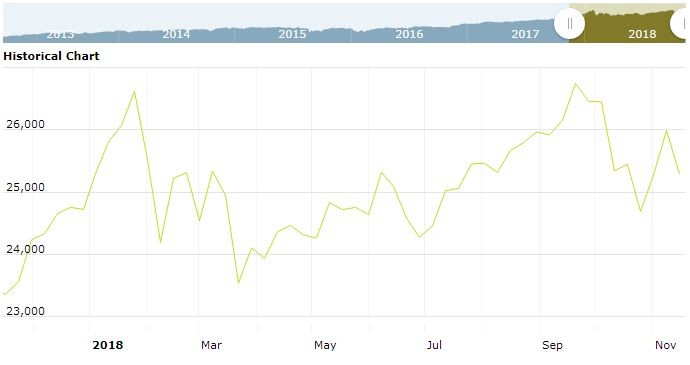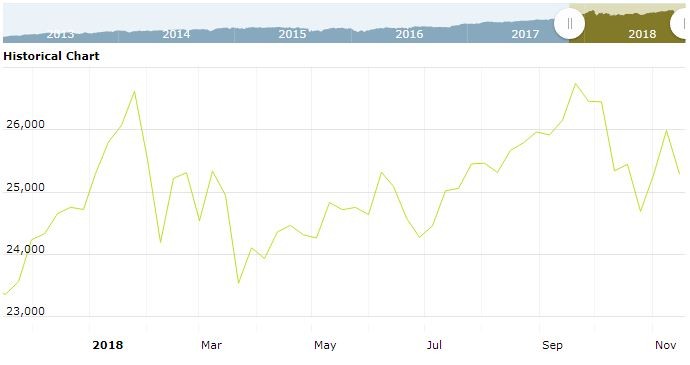 Other leading market index closes included the small-cap Russell 2000 Index closed at 1,488.28  up with  +1.31% percent or +19.27 point; the S&P 600 Small-Cap Index closed at 937.41  with +0.98% percent or +9.08  point; the S&P 400 Mid-Cap Index closed at 1,827.87 up with  +1.10% percent or +19.95 point; the S&P 100 Index closed at 1,171.29 up with +0.12% percent or +1.35 point; the Russell 3000 Index closed at 1,562.68  up with +0.47% percent or +7.26  point; the Russell 1000 Index closed at 1,465.02  up with +0.40% percent or +5.85 point;