U.S. stock futures lower  in pre-market trading for , December 17.The Dow Futures is trading at 24,138.00 up with +0.04% percent or +10.00 point.. The S&P 500 Futures is trading at 2,607.88 up with +0.09% percent or +2.38 point.The Nasdaq Futures is trading at 6,633.12  up with +0.16% percent or +7.25 point.
In overnight trading in the Eastern Hemisphere, Japan's Nikkei 225 is trading at 21,506.88  up with +0.62% percent or +132.05 point. Hong Kong's Hang Seng is trading at 26,106.98   up with +0.047% percent or +12.19 point. China's Shanghai Composite is trading at 2,597.97  up with +0.16% percent or  +4.23 point. India's BSE Sensex is trading at  36,193.86 up with +0.64% percent or  +230.93 point at 12:15 PM.The FTSE 100 is trading at 6,822.73 with a loss of -0.33% percent or -22.44 point. Germany's DAX is trading at 10,849.07 with a loss of -0.15% percent or -16.70 point. France's CAC 40 is trading at 4,835.79  with a loss of -0.37% percent or -17.90 point. The Stoxx Europe 600 is trading at 345.96 with a loss of -0.36% percent or -1.25  point.
Monday's Factors and Events
Investors are also on edge ahead of the December meeting of the Federal Reserve's policymaking arm. The Federal Open Market Committee is expected to hike its benchmark overnight lending rate for a fourth and final time of 2018 this week. While fears of rising interest rates and an ambitious Fed have spooked markets throughout 2018, such concerns have evolved over the past month as inflation and growth expectations recede.
Friday's Activity
For the day the Dow is trading at 24,100.51 with a loss of -2.02% percent or -496.87 point. The S&P 500 is trading at 2,599.95 with a loss of -1.91% percent or -50.59 point. The Nasdaq Composite is trading at 6,910.66  with a loss of -2.26% percent or -159.67 point.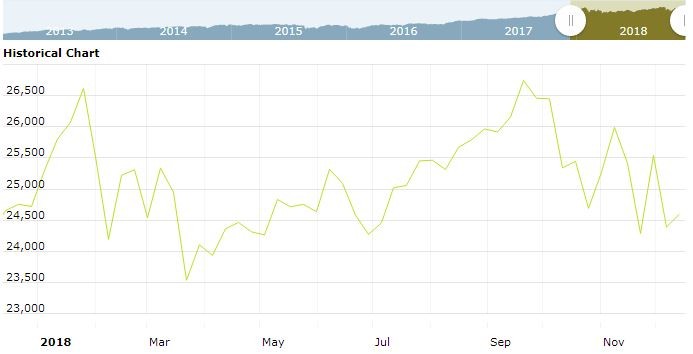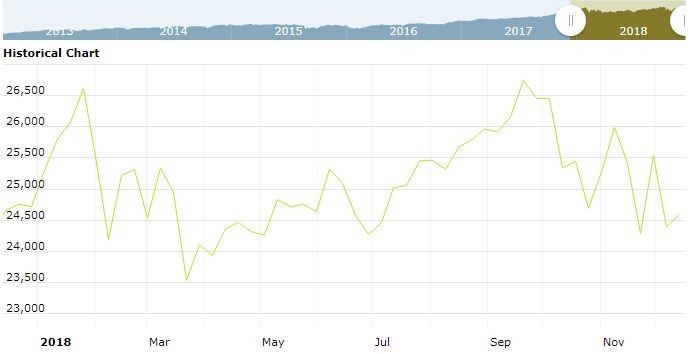 Other leading market index closes included the small-cap Russell 2000 Index closed at 1,410.81  with a loss of -1.53% percent or –21.89  point; the S&P 600 Small-Cap Index closed at 878.11  with a loss of -1.57% percent or -14.00 point; the S&P 400 Mid-Cap Index closed at 1,732.81  with a loss of -1.47% percent or -25.81 point; the S&P 100 Index closed at 1,153.59   with a loss of -2.09% percent or -24.66 point; the Russell 3000 Index closed at 1,528.36  with a loss of -1.83% percent or -28.42 point; the Russell 1000 Index closed at 1,436.31  with a loss of -1.85% percent or -27.04 point;