U.S. stock futures lower  in pre-market trading for , January 03.The Dow Futures is trading at 22,990.00 with a loss of  -1.44% percent or -335.00 point. The S&P 500 Futures is trading at 2,472.88  with a loss of -1.52% percent or -38.88 point.Other U.S.The Nasdaq Futures is trading at 6,208.00   with a loss of -2.56% percent or -163.00 point.
In overnight trading in the Eastern Hemisphere,  Japan's Nikkei 225 is trading at 20,014.77   with a loss of -0.31% percent or -62.85 point. Hong Kong's Hang Seng is trading at 25,066.09  with a loss of -0.26% percent or -64.26 point. China's Shanghai Composite is trading at 2,464.36  with a loss of -0.038% percent or  -0.93 point. India's BSE Sensex is trading at 35,686.24 with a loss of -0.58% percent or -207.41  point at 12:15 PM.The FTSE 100 is trading at 6,707.95 with  a loss of -0.39% percent or -26.28 point. Germany's DAX is trading at 10,455.26   with a loss of -1.18% percent or -121.78 point. France's CAC 40 is trading at 4,637.51  with a loss of -4,637.51 percent or -52.57 point. The Stoxx Europe 600 is trading at 334.83    with a loss of -0.78% percent or -2.66 point.
Thursday's Factors and Events
This shouldn't be a total surprise for investors, who punished tech stocks in the fourth quarter on fears that Apple's business was struggling, especially in China. A number of analysts had come out and cut their estimates and price target on Apple last quarter. Apple dropped 30 percent in the final three months of 2018. The technology portion of the S&P 500 lost more than 17 percent.
Apple's warning seemed to be having an effect on any company that does big business in China. Caterpillar shares were down more than 3 percent after hours. Boeing shares dropped 2 percent.
Wednesday's Activity
For the day the Dow is trading at 23,346.24  up with +0.081% percent or +18.78 point. The S&P 500 is trading at 2,510.03  up with +0.13% percent or +3.18 point. The Nasdaq Composite is trading at 6,665.94   up with +0.46% percent or +30.66 point.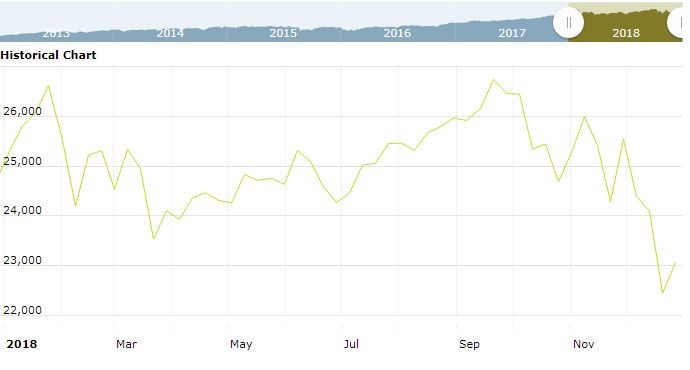 Other leading market index closes included the small-cap Russell 2000 Index closed at 1,355.91  up with +0.54% percent or +7.35 point; the S&P 600 Small-Cap Index closed at 848.33 up with +0.40%percent or +3.39  point; the S&P 400 Mid-Cap Index closed at 1,657.93   with a loss of -0.31% percent or -5.11 point; the S&P 100 Index closed at 1,118.14  up with +0.38% percent or +4.27 point; the Russell 3000 Index closed at 1,473.66   up with +0.10% percent or +1.53  point; the Russell 1000 Index closed at 1,385.23  up with +0.070% percent or +0.97 point;