U.S. stock futures lower  in pre-market trading for , January 07.The Dow Futures is trading at 23,389.00 with a loss of -0.03%percent or -6.00 point. The S&P 500 Futures is trading at 2,528.12  with a loss of -0.08% percent or -2.13 point. The Nasdaq Futures is trading at 6,422.25  with a loss of -0.18% percent or -11.75 point.
In overnight trading in the Eastern Hemisphere, Japan's Nikkei 225 is trading at 20,038.97 up with +2.44% percent or +477.01 point. Hong Kong's Hang Seng is trading at 25,828.61  up with +0.79% percent or +202.58 point. China's Shanghai Composite is trading at 2,533.09 up with +0.72% percent or  +18.22 point. India's BSE Sensex is trading at 35,993.72 up with +0.84% percent or +298.62 point at 12:15 PM.The FTSE 100 is trading at 6,790.67   with a loss of -0.68% percent or -46.75 point. Germany's DAX is trading at 10,709.76  with a loss of -0.54% percent or -57.93 point. France's CAC 40 is trading at 4,716.22   with  a loss of -0.44% percent or -20.89 point. The Stoxx Europe 600 is trading at 341.95 with a loss of  -0.41% percent or -1.41 point.
Monday's Factors and Events
Market participants are closely monitoring global trade developments, as the world's two largest economies resume talks early this week. According to Reuters, the Chinese foreign ministry said Monday that China and the U.S. have expressed an eagerness to work together. The ministry also added China stands ready to resolve trade disputes with the U.S. on an equal footing.
Friday's Activity
For the day the Dow is trading at 23,433.16  up with  +3.29% percent or +746.94 point. The S&P 500 is trading at 2,531.94  up with +3.43% percent or +84.05 point. The Nasdaq Composite is trading at +6,738.86 up with +4.26% percent or +275.35 point.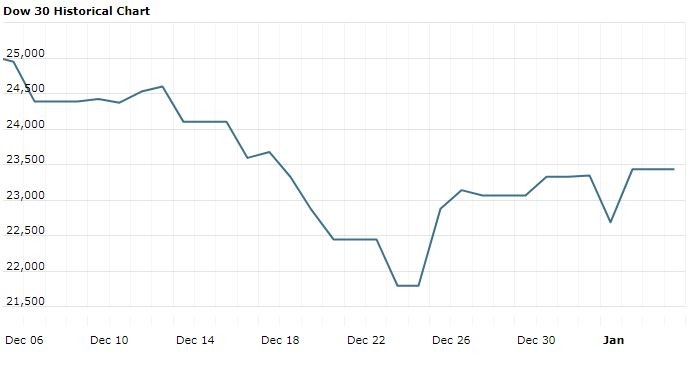 Other leading market index closes included the small-cap Russell 2000 Index closed at 1,380.75 up  with +3.75% percent or +49.92 point; the S&P 600 Small-Cap Index closed at 862.32  up with +3.54% percent or +29.51  point; the S&P 400 Mid-Cap Index closed at 1,684.34  up with +3.23% percent or +52.78 point; the S&P 100 Index closed at 1,126.64 up with +3.55% percent or +38.61 point; the Russell 3000 Index closed at 1,488.53  up with +3.46% percent or +49.78  point; the Russell 1000 Index closed at 1,398.34  up with +3.44% percent or +46.47 point;