U.S. stock futures lower  in pre-market trading for , January 21.The Dow Futures is trading at 24,576.00 with a loss of  -0.45% percent or -111.00 point.The S&P 500 Futures is trading at 2,659.88  with a loss of -0.43% percent or -11.62 point.The Nasdaq Futures is trading at 6,761.00  with a loss of -0.47% percent or -31.75 point.
In overnight trading in the Eastern Hemisphere,  Japan's Nikkei 225 is trading at 220,719.33 with +0.26% percent or +53.26 point. Hong Kong's Hang Seng is trading at 27,176.94  with 0.32% percent or -102.95 point. China's Shanghai Composite is trading at 2,610.51 up with +0.56% percent or  +14.50  point. India's BSE Sensex is trading at 36,627.58  up with +0.66% percent or +240.97 point at 12:15 PM.The FTSE 100 is trading at 6,985.26 up with +0.24% percent or +16.93 point. Germany's DAX is trading at 11,158.16 with  a loss of -0.42% percent or -47.38 point. France's CAC 40 is trading at 4,869.55 with a loss of – 0.13% percent or -6.38 point. The Stoxx Europe 600 is trading at 356.25  with a loss of  -0.22% percent or -0.78 point.
Monday's Factors and Events
The major averages jumped to their highs of the day after sources told CNBC that China had offered a six-year increase in U.S. imports during recent trade talks. Bloomberg News reported on Friday that the deal would aim to reduce the annual U.S. deficit to zero by 2024.
Shares of Boeing and Caterpillar both closed more than 1.5 percent higher. Deere climbed more than 2.5 percent.
"That's the key factor," said Randy Frederick, vice president of trading and derivatives at the Schwab Center for Financial Research. "If we don't get that issue resolved, the market is going to hit upside headwinds no matter what happens."
Friday's Activity
For the day the Dow is trading at 24,706.35 up with +2.06% percent or +499.19 point. The S&P 500 is trading at 2,670.71 up with +1.32% percent or +34.75 point. The Nasdaq Composite is trading at 7,157.23 up with +1.03% percent or +72.76 point.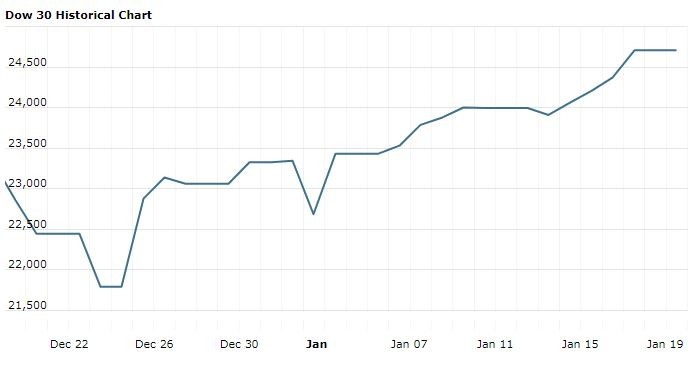 Other leading market index closes included the small-cap Russell 2000 Index closed at 1,482.50  up with +1.04% percent or +15.25 point; the S&P 600 Small-Cap Index closed at 924.28 up with +1.00% percent or +9.15  point; the S&P 400 Mid-Cap Index closed at 1,817.25 up with +1.40% percent or +25.05point; the S&P 100 Index closed at 1,181.55  up with +1.17% percent or +13.69 point; the Russell 3000 Index closed at 1,575.36  up with +1.29% percent or + 20.02 point; the Russell 1000 Index closed at 1,478.25  up with +1.31% percent or +19.06 point