U.S. stock futures higher  in pre-market trading for , January 25.The Dow Futures is trading at 24,625.00 up with +0.68% percent or +167.00 point.The S&P 500 Futures is trading at 2,653.12  up with +0.73% percent or +19.12 point.The Nasdaq Futures is trading at 6,741.25 up with +0.99% percent or +66.25 point.
In overnight trading in the Eastern Hemisphere, Japan's Nikkei 225 is trading at 20,773.56 up with +0.97% percent or +198.93 point. Hong Kong's Hang Seng is trading at 27,511.59  up with +1.44% percent or +390.61 point. China's Shanghai Composite is trading at 2,601.72   up with +0.39% percent or +10.03 point. India's BSE Sensex is trading at 36,401.17  up with +0.57% percent or +206.07 point at 12:15 PM.The FTSE 100 is trading at 6,843.00 up with +0.35% percent or +24.05 point. Germany's DAX is trading at 11,288.21 up with  +1.42% percent or 158.03 point. France's CAC 40 is trading at 4,919.83 up with +0.98% percent or +47.87 point. The Stoxx Europe 600 is trading at 358.51 up with +0.80% percent or +2.81  point.
Friday's Factors and Events
markets came under pressure after Commerce Secretary Wilbur Ross said that trade negotiations with China were far from complete. "We would like to make a deal but it has to be a deal that will work for both parties," Ross told CNBC. "We're miles and miles from getting a resolution."
Ross' comments come as Washington and Beijing try to remedy their trade disputes, during a tariff cease-fire which is slated to finish at the start of March.
Elsewhere, the government shutdown continues to weigh. In the latest surrounding the subject, the Senate blocked bills on Thursday that would fund the government.
Thursday's Activity
For the day the Dow is trading at 24,553.24  with a loss of -0.091% percent or -22.38 point. The S&P 500 is trading at 2,642.33 up with +0.14% percent or +3.63 point. The Nasdaq Composite is trading at 7,073.46 up with +0.68% percent or +47.69 point.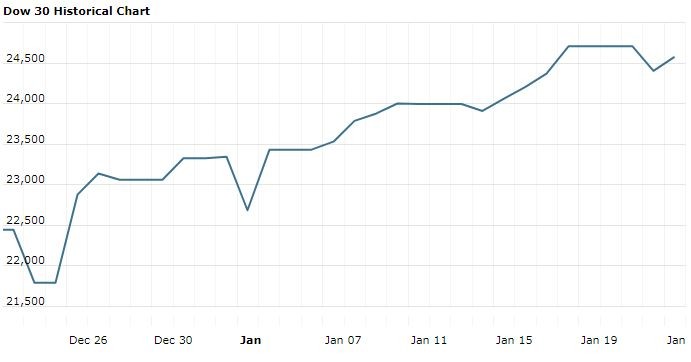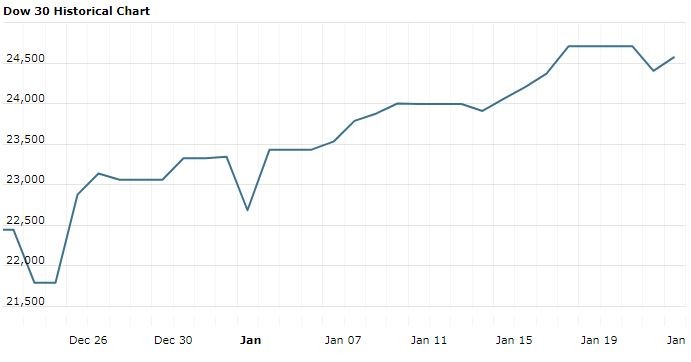 Other leading market index closes included the small-cap Russell 2000 Index closed at 1,464.41 up with +0.70% percent or +10.15 point; the S&P 600 Small-Cap Index closed at 912.68  up with +0.61% percent or +5.50  point; the S&P 400 Mid-Cap Index closed at 1,799.23  up with +0.70% percent or +12.59 point; the S&P 100 Index closed at 1,167.43   with a loss of -0.033% percent or -0.38 point; the Russell 3000 Index closed at 1,558.88  up with +0.24% percent or +3.79 point; the Russell 1000 Index closed at 1,462.98  up with +0.21% percent or +3.04  point.