U.S. stock futures higher  in pre-market trading for , January 30.The Dow Futures is trading at 24,616.50 up with +0.26% percent or +63.50 point. The S&P 500 Futures is trading at 2,645.12  up with +0.18% percent or +4.87 point.The Nasdaq Futures is trading at 6,685.00  up with +0.70% percent or +46.25 point.
In overnight trading in the Eastern Hemisphere, Japan's Nikkei 225 is trading at 20,556.54  with a loss of -0.52% percent or -108.10 point. Hong Kong's Hang Seng is trading at 27,531.88  up with +0.00073% percent or +0.20  point. China's Shanghai Composite is trading at 2,575.58 with a loss of -0.72% percent or -18.68 point. India's BSE Sensex is trading at 35,616.37  up with +0.067% percent or +23.87 point at 12:15 PM.The FTSE 100 is trading at 6,914.04 UP with +1.17% percent or +80.11 point. Germany's DAX is trading at 11,170.83 with a loss of -0.43% percent or -48.00 point. France's CAC 40 is trading at 4,951.18  up with +0.47% percent or +23.01 point. The Stoxx Europe 600 is trading at 357.35  up with +0.02% percent or +0.08 point.
Wednesday's Factors and Events
Market players are also looking to the outcome of the Federal Reserve's rate review later in the session. Growing concerns of a global economic slowdown, trade war fears and the unpredictability of the U.S. administration have led many investors to believe that the Fed will be less aggressive in hiking rates compared to what it did last year. Meanwhile, Fed chair Jerome Powell is due to speak at 2.30 p.m. ET time
Tuesday's Activity
For the day the Dow is trading at 24,579.96  up with +0.21% percent or +51.74 point. The S&P 500 is trading at 2,640.00 with a loss of -0.15% percent or -3.85 point. The Nasdaq Composite is trading at 7,028.29  with a loss of -0.81% percent or -57.39 point.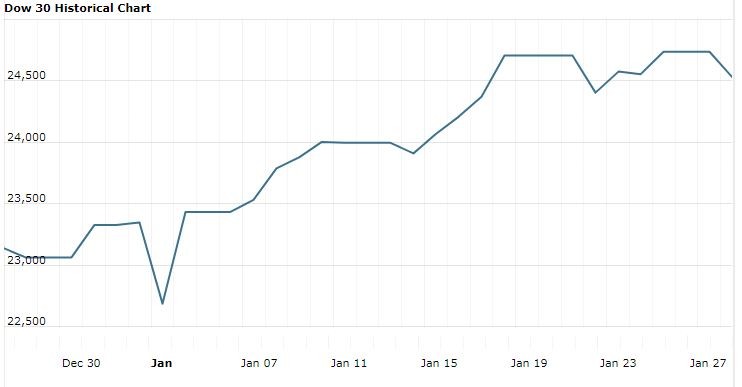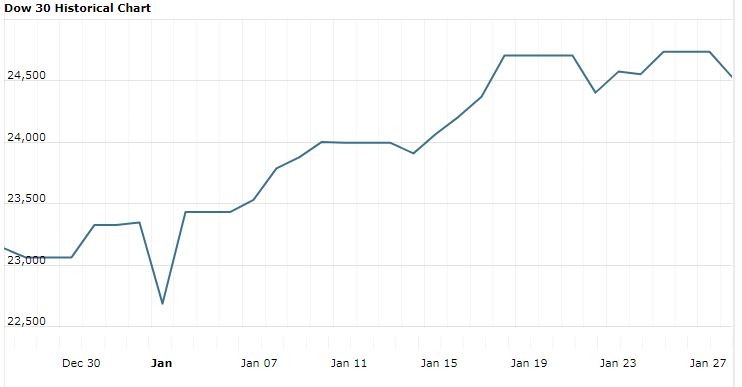 Other leading market index closes included the small-cap Russell 2000 Index closed at 1,471.45  with a loss of -0.14% percent or -2.09 point; the S&P 600 Small-Cap Index closed at 917.07  with 0.00%percent or 0.00% point; the S&P 400 Mid-Cap Index closed at 1,816.01 with a loss of -0.0028% percent or -0.050 point; the S&P 100 Index closed at 1,160.65  with a loss of -0.33% percent or -3.79 point; the Russell 3000 Index closed at 1,559.73   with  a loss of -0.14% percent or -2.23 point; the Russell 1000 Index closed at 1,463.29   with a loss of -0.14% percent or -2.09 point