U.S. stock futures lower  in pre-market trading for , February 06.The Dow Futures is trading at 25,278.50  with a loss of  -0.18% percent or -45.50 point. The S&P 500 Futures is trading at 2,725.88  with a loss of -0.19% percent or -5.12 point.The Nasdaq Futures is trading at 6,996.75   with a loss of -0.16% percent or -11.25 point.
In overnight trading in the Eastern Hemisphere, Japan's Nikkei 225 is trading at 20,874.06  up with +0.14% percent or +29.61 point. Hong Kong's Hang Seng is trading at 27,990.21 up with +0.21% percent or +59.47 point. China's Shanghai Composite is trading at 2,618.23 up with +1.30% percent or +33.66 point. India's BSE Sensex is trading at 36,904.45  up with +0.79% percent or +287.64 point at 12:15 PM.The FTSE 100 is trading at 7,176.94  with a loss of -0.0060% percent or -0.43 point. Germany's DAX is trading at 11,307.72 with a loss of -0.53% percent or -60.26 point. France's CAC 40 is trading at 5,068.46 with a loss of -0.29% percent or -14.88 point. The Stoxx Europe 600 is trading at 365.01  up with  +0.02% percent or +0.07 point.
Wednesday's Factors and Events
Money managers are keeping an eye on trade talks between China and the United States. Both negotiating teams have said they made "important progress." President Donald Trump also said he would soon meet with Chinese premier Xi Jinping to try to reach a comprehensive trade deal. Stocks had taken heart from the possibility of top-level trade talks over the coming weeks, but the upbeat mood soon cooled when the White House insisted it sees March 1 as a hard deadline for a deal.
Thursday's Activity
For the day the Dow is trading at 25,411.52 up with +0.68% percent or +172.15 point. The S&P 500 is trading at 2,737.70 up with +0.47% percent or +12.83 point. The Nasdaq Composite is trading at 7,402.08  up with +0.74% percent or +54.55 point.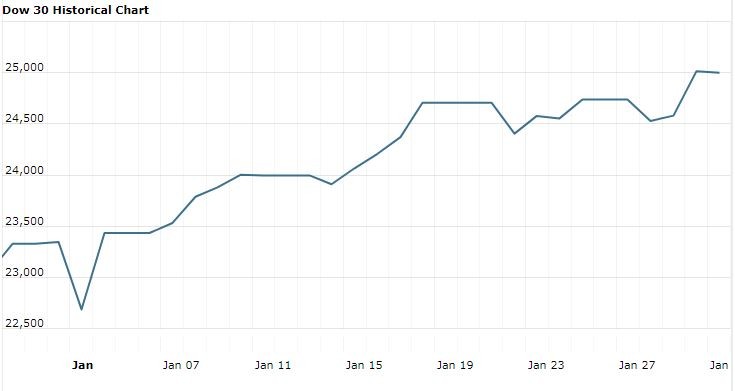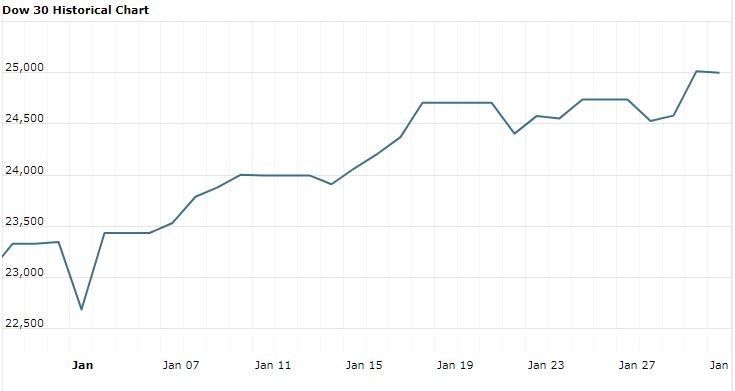 Other leading market index closes included the small-cap Russell 2000 Index closed at 1,520.23 up  with +0.18% percent or +2.69 point; the S&P 600 Small-Cap Index closed at 945.89  up with +0.11% percent or +1.08  point; the S&P 400 Mid-Cap Index closed at 1,865.60  up with +0.45% percent or +8.28 point; the S&P 100 Index closed at 1,207.64 up with +0.57% percent or +6.89 point; the Russell 3000 Index closed at 1,617.80  up with  +0.45% percent or +7.29 point; the Russell 1000 Index closed at 1,518.24  up with +0.47% percent or ++7.17 point