U.S. stock futures mixed  in pre-market trading for , February 20.The Dow Futures is trading at 25,874.50  with a loss of -0.03% percent or -8.50 point.  The S&P 500 Futures is trading at 2,778.62  with a loss of  0.00% percent or -0.13 point.The Nasdaq Futures is trading at 7,071.00 up with +0.04% percent or +2.75 point.
In overnight trading in the Eastern Hemisphere, Japan's Nikkei 225 is trading at 21,431.49 up with +0.60% percent or +128.84 point. Hong Kong's Hang Seng is trading at 28,502.42  up with +0.97% percent or +274.29 point. China's Shanghai Composite is trading at 2,761.22  up with +0.20% percent or +5.57 point. India's BSE Sensex is trading at 35,582.86 up with +0.65% percent or +230.25 point at 12:15 PM.The FTSE 100 is trading at 7,199.95 up with +0.29% percent or +20.78 point. Germany's DAX is trading at 11,345.66  up with +0.32% percent or +36.45 point. France's CAC 40 is trading at 5,173.77  up with  +0.26% percent or +13.25 point. The Stoxx Europe 600 is trading at 369.94  up with +0.26% percent or +0.96 point.
Wednesday's Factors and Events
Market focus is largely attuned to global trade developments, after officials from the U.S. and China launched a new round of negotiations on Tuesday.
A follow-up session of higher-level talks is expected later in the week, as both sides look to resolve the long-running trade war before an early March deadline.
President Donald Trump has suggested he might extend the deadline for a deal, telling reporters in the Oval Office on Tuesday that March 1 was not a "magical date."
Tuesday's Activity
For the day the Dow is trading at 25,891.32 up with +0.031% percent or +8.07 point. The S&P 500 is trading at 2,779.76 up with  +0.15% percent or +4.16 point. The Nasdaq Composite is trading at 7,486.77 up with +0.19% percent or +14.36 point.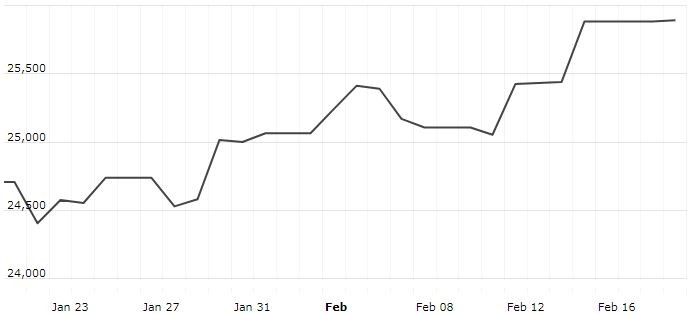 Other leading market index closes included the small-cap Russell 2000 Index closed at 1,574.47 up with +0.33% percent or +5.22 point; the S&P 600 Small-Cap Index closed at 980.86 up with +0.58% percent or +5.62  point; the S&P 400 Mid-Cap Index closed at 1,916.27  up with +0.12% percent or +2.26 point; the S&P 100 Index closed at 1,219.92  up with +0.16% percent or +1.96 point; the Russell 3000 Index closed at 1,646.11  up with +0.16% percent or +2.66 point; the Russell 1000 Index closed at 1,542.66 up with +0.15% percent or +2.28 point