U.S. stock futures higher  in pre-market trading for , May 02.The Dow Futures is trading at 26,393.00 up with +3.00 percent or +55.70 point.The S&P 500 Futures is trading at 2,927.25  up with +0.15% percent or +4.25 point.  The Nasdaq Futures is trading at 7,773.25 up with +0.22% percent or +16.75 point.
In overnight trading in the Eastern Hemisphere, In other parts of world,  Japan's Nikkei 225 is trading at 22,258.73 with a loss of -0.22% percent or -48.85 point. Hong Kong's Hang Seng is trading at 29,957.91 up with +0.87% percent or +258.80   point. China's Shanghai Composite is trading at 3,078.34  up with +0.52% percent or +15.84 point. India's BSE Sensex is trading at 39,092.08  up with 0.16% percent or +60.53 point at 12:15 PM.The FTSE 100 is trading at 7,369.66  with  a loss of -0.21% percent or -15.60 point. Germany's DAX is trading at 12,345.68  up with  0.013% percent or  +1.60 point. France's CAC 40 is trading at 5,555.34 with a loss of -0.56% percent or -31.07 point. The Stoxx Europe 600 is trading at 389.42  with a loss -1.67 percent or –1.70 point.
Thursday's Factors and Events
The muted moves come after Fed Chairman Jerome Powell said Wednesday that recently low inflation pressures may just be "transitory," hinting that a rate cut may not be on the horizon. Powell's comments sent stocks tumbling, with the Dow closing more than 150 points lower.
"He wanted to make the betting books on a Fed rate cut more balanced, and he did," said Steven Blitz, chief U.S. economist at TS Lombard, in a note. "Powell restated his determination to be patient on inflation – down or up – before acting, suggesting that the Fed's preemptive moment for this cycle may very well have come after the December rate hike."
Wednesday Activity
For the day the Dow is trading at 26,430.14 with a loss of -0.61% percent or -162.77 point. The S&P 500 is trading at 2,923.73 with a loss of -0.75% percent or -22.10 point. The Nasdaq Composite is trading at 8,049.64  wilth  a loss of -0.57% percent or -45.75 point.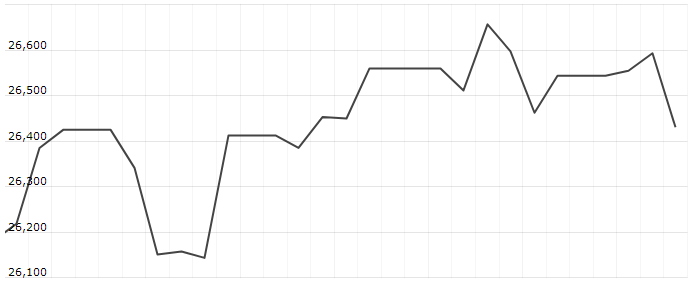 Other leading market index closes included the small-cap Russell 2000 Index closed at 1,576.38 with a loss of –0.93% percent or –14.83 point; the S&P 600 Small-Cap Index closed at 966.76 with a loss of -0.85% percent or -8.30 point; the S&P 400 Mid-Cap Index closed at 1,948.87 with a loss of -1.11% percent or -21.87 point; the S&P 100 Index closed at 1,297.69  with a loss of -0.58% percent or -7.51 point; the Russell 3000 Index closed at 1,722.23  with a loss of -0.77% percent or -13.38 point; the Russell 1000 Index closed at 1,619.49   with a loss of -0.76% or -12.38 point.