U.S. stock  higher in pre-market trading for,April 24.The Dow Futures is trading at 23,493.00 up with +0.67% percent or +156.00 point.The S&P 500 Futures is trading at 2,797.62 up with +0.61% percent or +16.87 point.The Nasdaq Futures is trading at 8,633.50 up with +0.40% percent or +34.75 point.
In other parts of world, Japan's Nikkei 225 is trading at 19,262.00 with a loss of –0.86% percent or –167.44   point. Hong Kong's Hang Seng is trading at 23,898.93 with a loss of –0.33% percent or –78.39   point. China's Shanghai  Composite is trading at 2,808.53 with a loss of –1.06% percent or –29.97 point. India's BSE Sensex is trading at 31,755.12  with a loss of –0.34% percent or –107.96 point at 12:15 PM.Germany's DAX is trading at 10,428.04 with a loss of  –0.82% percent or –85.75 point. France's CAC 40 is trading at 4,419.34 with a loss of –0.71% percent or –31.66 point. The Stoxx Europe 600 is trading at 331.73 with a loss of –0.45% percent or –1.51  point.
Friday's Factors and Events
The reversal in U.S. equities yesterday set the stage for today's losses. All the Asia Pacific bourses fell today but Australia. For the week, the regional index is off more than 2%. Europe's Dow Jones Stoxx 600 was flat for the week coming into today's sessions. It is off around 0.5% in late morning activity.
U.S. shares are firmer, while the S&P 500 is 2.7% through yesterday. It fell by about 3% last week. Core bond yields are a little lower, and after a rocky start, peripheral European yields have softened. It is not simply a result of disappointment that the EU did not reach an agreement yesterday. The ECB has had a difficult time this week.
Thursday Activity
For the day the Dow is trading at 23,515.26 up with +0.17% percent or +39.44  point. The S&P 500 is trading at 2,797.80  with a loss of –0.054% percent or –1.51 point. The Nasdaq Composite is trading at 8,494.75  with a loss of –0.0074%% percent or –0.63 point.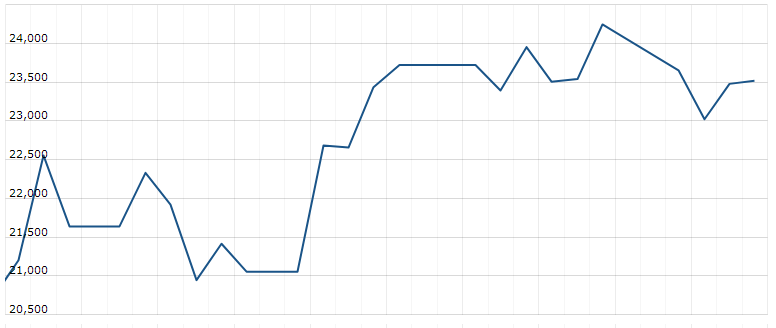 Other leading market index closes included the small-cap Russell 2000 Index closed at 1,214.06 up with 1.04% percent or +12.54 point; the S&P 600 Small-Cap Index closed at 707.49 up with +1.25% percent or +8.75 point; the S&P 400 Mid-Cap Index closed at 1,529.01 up with +1.07% percent or +16.15 point; the S&P 100 Index closed at 1,288.64 up with +0.020% percent or +0.26 point; the Russell 3000 Index closed at 1,611.46 up with +0.057% percent or +0.93  point; the Russell 1000 Index closed at 1,534.93 with a loss of –0.00072%or -0.011 point.