U.S. stock higher in pre-market trading for,July 13.The Dow Futures is trading at 26,119.00 up with +0.55% percent or +142.00 point.The S&P 500 Futures is trading at 3,192.12 up with +0.43% percent or +13.62 point.The Nasdaq Futures is trading at 10,897.80 up with +0.56%  percent or +60.50 point.
In other parts of world, Japan's Nikkei 225 is trading at at 22,784.74 up with +2.22% percent or +493.93 point. Hong Kong's Hang Seng is trading at 25,914.15 up with +0.73% percent or +186.74  point. China's Shanghai  Composite is trading at 3,425.66 up with +1.25% percent or +42.34 point. India's BSE Sensex is trading at 36,790.01 up with +36,790.01 percent or +195.68  point at 12:15 PM.Germany's DAX is trading at 12,777.41  up with +1.14% percent or +143.70 point. France's CAC 40 is trading at 5,028.62 up with +1.17% percent or +58.15 point. The Stoxx Europe 600 is trading at 369.62 up with +0.76% percent or +2.79 point.
Monday's Factors and Events
however, haven't been convinced by all this record-breaking data considering they followed the steepest recession since the 1930s, all of which was triggered by a global pandemic. And that's not in the rear-view mirror yet.
On Sunday, the World Health Organization reported a record daily increase in global COVID-19 cases. And in the US, Florida hit a new daily record as well with over 15,000 new cases reported yesterday.
Friday Activity
For the day the Dow is trading at 26,075.30 up with +1.44% percent or +369.21 point. The S&P 500 is trading at 3,185.04 up with +1.05% percent or +32.99  point. The Nasdaq Composite is trading at 10,617.44 up with +0.66% percent or +69.69 point.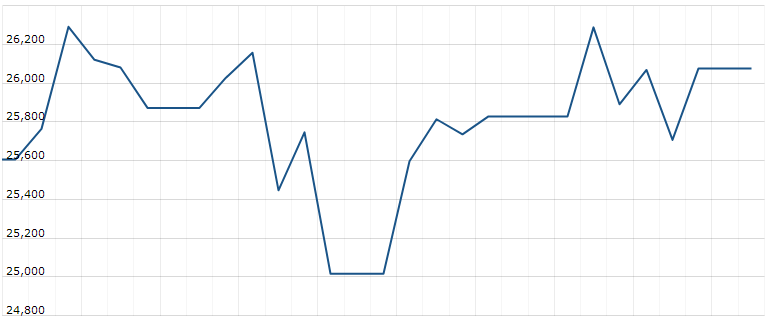 Other leading market index closes included the small-cap Russell 2000 Index closed at 1,422.68 up with +1.70% percent or +23.76 point; the S&P 600 Small-Cap Index closed at 817.37 up with 2.19% percent or +17.51  point; the S&P 400 Mid-Cap Index closed at 1,772.98 up with +1.39% percent or +24.37 point; the S&P 100 Index closed at 1,481.96 up with +1.09% percent or +15.92  point; the Russell 3000 Index closed at 1,858.09  up with 1.09% percent or +20.01 point; the Russell 1000 Index closed at 1,858.09 up with +1.09% or +18.43  point.