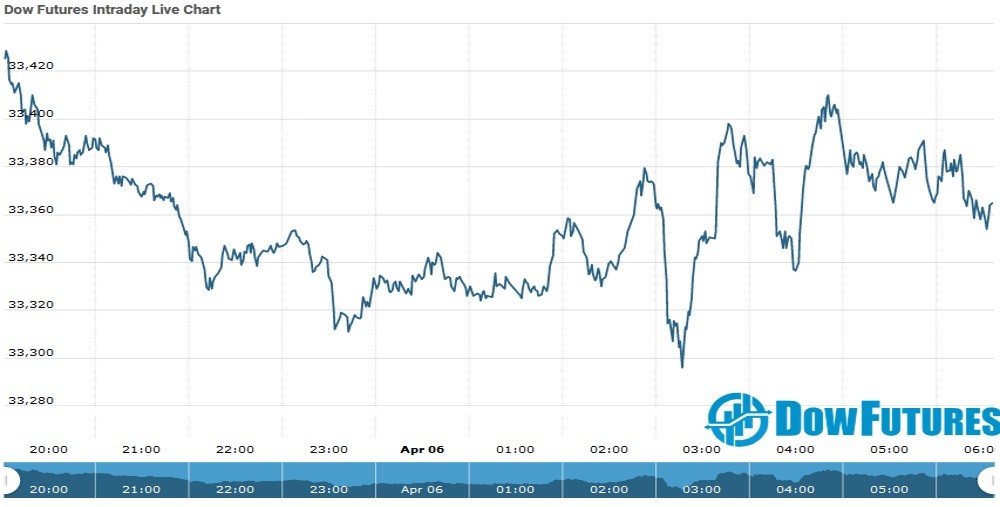 U.S. stock lower in pre-market trading for,april 06.The Dow Futures is trading at 33,367.00 with -0.14% percent or -48.00 point.The S&P 500 Futures is trading at 4,058.62 with a loss of -0.22% percent or -9.13 point.The Nasdaq Futures is trading at 13,553.00 with a loss of -0.24% percent or -32.50 point.
In other parts of world, Japan's Nikkei 225 is trading at at 29,696.63  with a loss of –1.30% percent or ?392.62 point. Hong Kong's Hang Seng is trading at 28,938.74 up with 1.97% percent or +560.39 point. China's Shanghai  Composite is trading at 3,485.13 up with +0.021% percent or +0.73 point. India's BSE Sensex is trading at 49,398.53  with +0.49% percent or +239.21 point at 12:15 PM.For the day the FTSE 100 closed at 6,737.30 up with +0.35% percent or +23.67 point. France's CAC  40 closed at 6,102.96 up with +0.59% percent or +35.73 point.Germany's DAX closed at 15,107.17 up with +0.66% percent or +98.83 point.
Tuesday's Factors and Events
The dollar sank to an almost two-week low versus a basket of its peers on Tuesday, moving in tandem with retreating Treasury yields from recent peaks despite signs of a robust U.S. economic recovery.
The dollar index wallowed at its lowest level since March 25, slipping further in early Asian trading following a 0.4% decline on Monday. The softer turn comes after it hit an almost five-month peak on Wednesday of last week.
Monday Activity
For the day the Dow is trading at 33,527.19 up with +1.13% percent or +373.98 point. The S&P 500 is trading at 4,077.91 up with +1.44% percent or +58.04 point. The Nasdaq Composite is trading at 13,705.59 up with +1.67% percent or  +225.49 point.
Other leading market index closes included the small-cap Russell 2000 Index closed  at 2,264.8 up with 0.49% percent or +10.98 point; the S&P 600 Small-Cap Index closed at 1,346.01 up with 0.43% percent or  +5.71 point; the S&P 400 Mid-Cap Index closed at 2,664.98 up with +0.65% percent or +17.27 point; the S&P 100 Index closed at 1,852.56 with +1.65% percent or  +30.02 point; the Russell 3000 Index closed at 2,443.40 up with 1.25% percent or +30.23 point; the Russell 1000 Index closed at 2,296.07 up with +1.31% or +29.69 point.