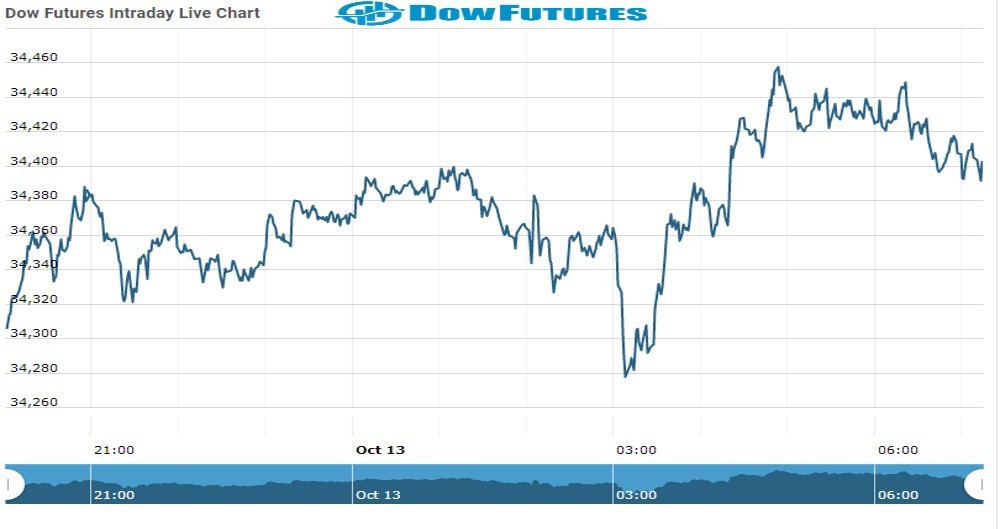 Dow Futures Update : 13 Oct 2021
U.S. stock lower in pre-market trading for Oct 13.The Dow Futures is trading at 34,407.60 with +0.09% percent or +29.30 point.The S&P 500 Futures is trading at 4,357.90 up with +0.17% percent or +7.30 point.The Nasdaq Futures is trading at 14,722.70  up with +0.41% percent or +60.60 point.
In other parts of world, Japan's Nikkei 225 is trading at 28,167.43 with a loss of –0.22% percent or –63.18 point. Hong Kong's Hang Seng is trading at 24,962.59  with +0.27% percent or +68.41 point. China's Shanghai Composite is trading at 3,564.81 with +0.50%percent or +17.87 point.India's BSE Sensex is trading at 60,660.19 up with 0.62% percent or +375.88 point at 12:15 PM.For the day the FTSE 100 closed at 7,130.23 with a loss of –0.23% percent or –16.62   point. France's CAC 40 closed at 6,548.11  with a loss of -0.34% percent or -22.43  point.Germany's DAX closed at 15,146.87 with a loss of -0.34% percent or -52.27 point.
WEDNESDAY'S FACTORS AND EVENTS
U.S. stock futures were muted in overnight trading on Tuesday as investors anticipate the start of earnings season and September's consumer inflation report, which is expected to have flared at the same rapid pace as August. Economists expect to see a rise of 0.3%, or a 5.3% annualized rate, when the consumer price index is released Wednesday at 8:30 a.m. ET.
TUESDAY ACTIVITY
For the day the Dow is trading at 34,326.46 up with +1.43% percent or +482.54 point. The S&P 500 is trading at 4,357.04 up with +1.15%percent or +49.50  point. The Nasdaq Composite is trading at 14,566.70  up with +0.82% percent or +118.12  point.
Other leading market index closes included the small-cap Russell 2000 Index closed at 2,234.27 up with 0.61% percent or +13.63 point. the S&P 600 Small-Cap Index closed at 1,354.25 up with +0.35% percent or +4.66 point. the S&P 400 Mid-Cap Index closed at 2,691.67 up with +0.58% percent or +15.53 point. the S&P 100 Index closed at 1,995.94 with a loss of –0.42%percent or -8.34 point.the Russell 3000 Index closed at 2,587.94 with a loss of –0.061% percent or -1.57 point. the Russell 1000 Index closed at 2,444.39 with a loss of –0.11% or ?2.64 point.