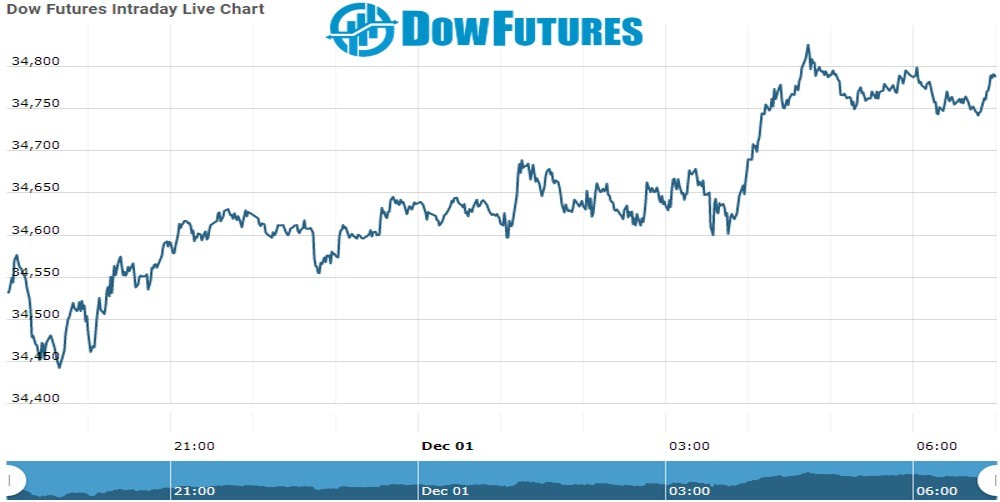 Dow Futures Update : 01 Dec 2021
U.S. stock higher in pre-market trading for Dec 01.The Dow Futures is trading at 34,769.40 with +0.83% percent or +285.70 point.The S&P 500 Futures is trading at 4,622.00 with +1.20% percent or +55.00 point.The Nasdaq Futures is trading at 16,367.40 up with +1.43% percent or +231.50 point.
In other parts of world, Japan's Nikkei 225 is trading at 27,979.81 with 0.57% percent or  +158.05 point. Hong Kong's Hang Seng is trading at 23,726.96 up with +1.07% percent or +251.70  point. China's Shanghai Composite is trading at 3,567.03 up with +0.088% percent or +3.14 point. India's BSE Sensex is trading at 57,768.15 up with +1.23% percent or +703.28 point at 12:15 PM.For the day the FTSE 100 closed at 7,059.45 with a loss of –0.71% percent or ?50.50 point. France's CAC 40 closed at 6,721.16 with a loss of –0.81% percent or -55.09 point.Germany's DAX closed at 15,100.13 with  a loss of –1.18% percent or -180.73 point.
WEDNESDAY'S FACTORS AND EVENTS
Tel Aviv, Israel, is now the most expensive city in the world to live in, according to a biannual report by the Economist Intelligence Unit.
The Israeli city topped the EIU's December 2021 worldwide cost of living index for the first time ever, climbing up from fifth place last year.
The EIU said that Tel Aviv rose up the rankings mainly because the Israeli currency, the shekel, had soared, "buoyed against the dollar by Israel's successful Covid-19 vaccine rollout."
TUESDAY ACTIVITY
For the day the Dow is trading at 35,135.94 up with  +0.68% percent or +236.60 point. The S&P 500 is trading at 4,655.27 up with +1.32% percent or +60.65   point. The Nasdaq Composite is trading at 15,782.83 up with +1.88% percent or +291.18   point.
Other leading market index closes included the small-cap Russell 2000 Index closed at  2,198.91 with a loss of –1.92% percent or -43.07 point. the S&P 600 Small-Cap Index closed at 1,343.15 with a loss of -2.14% percent or –29.34 point. the S&P 400 Mid-Cap Index closed at 2,708.65 with a loss of –2.63% percent or ?73.16   point. the S&P 100 Index closed at 2,117.51 with a loss of -1.57% percent or -33.70 point.the Russell 3000 Index closed at 2,685.54 with a loss of –1.98% percent or -54.25 point. the Russell 1000 Index closed at 2,545.78 with a loss of –1.98% or ?51.53  point.