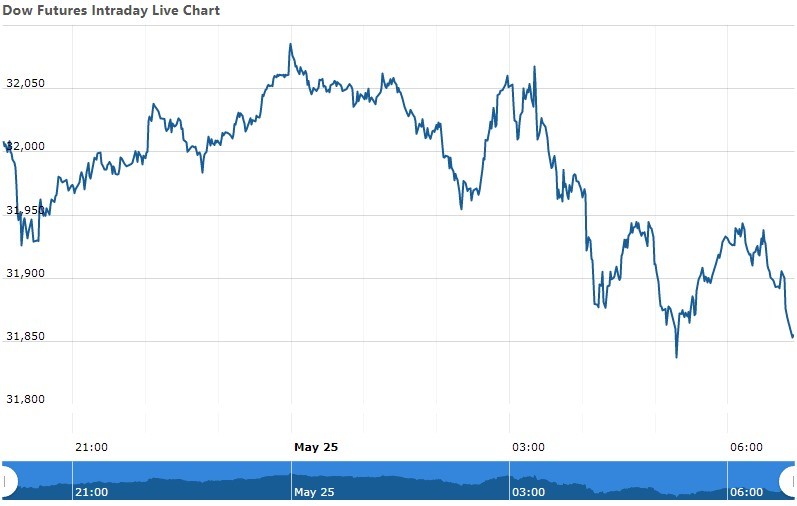 Dow Futures Update : 25 May 2022
U.S. stock lower in pre-market trading for April 25.The Dow Futures is trading at 31,916.1 with a loss of -0.04% percent or -12.5 point.The S&P 500 Futures is  trading at 3,943.60 up with +0.05% percent or +2.10 point.The Nasdaq Futures is trading at 11,788.1 up with +0.16% percent or +18.3 point.
In other parts of world, Japan's Nikkei 225 is trading at 26,690.15 with –0.22% percent or –57.99  point. Hong Kong's Hang Seng is trading at 20,145.40 up with +0.17% percent or +33.30  point. China's Shanghai Composite is trading at 3,094.92 up with +0.78% percent or +24.00  point. India's BSE Sensex is trading at 53,908.29 with a loss of –0.27% percent or –144.32  point at 12:15 PM.For the day the FTSE 100 closed at 7,484.35 with a loss of –0.39% percent or ?29.09  point. France's CAC 40 closed at 6,253.14 with a loss of –1.66% percent or -105.60 point.Germany's DAX closed at 13,919.75 with a loss of –1.80% percent or -255.65 point.
WEDNEDAY'S FACTORS AND EVENTS
There was some positive data on Tuesday with a flash purchasing managers' index (PMI) reading for the euro zone in May coming in at 55.8, slightly ahead of estimates, as business growth across the continent slowed but remained resilient. Still, global concerns about inflation and growth are prevalent and continue to weigh on sentiment.
TUESDAY ACTIVITY
For the day the Dow is trading at 31,880.24 up with +1.98% percent or +618.34  point. The S&P 500 is trading at 3,973.75  up with 1.86% percent or +72.39 point. The Nasdaq Composite is trading at 11,535.27  with 1.59% percent or +180.66  point.
Other leading market index closes included the small-cap Russell 2000 Index closed a 1,764.83 with a loss of  -1.56% percent or  -27.94 point. the S&P 600 Small-Cap Index closed at 1,171.41 with a loss of -1.11% percent or -13.09  point. the S&P 400 Mid-Cap Index closed at 2,380.40 with a loss of –1.22% percent or ?29.42 point. the S&P 100 Index closed at 1,782.92 with a loss of -0.97% percent or  ?17.42  point.the Russell 3000 Index closed at 2,272.26  with a loss of –1.01% percent or ?23.21  point. the Russell 1000 Index closed at 2,161.39 with a loss of –0.98% or ?21.32 point.
.