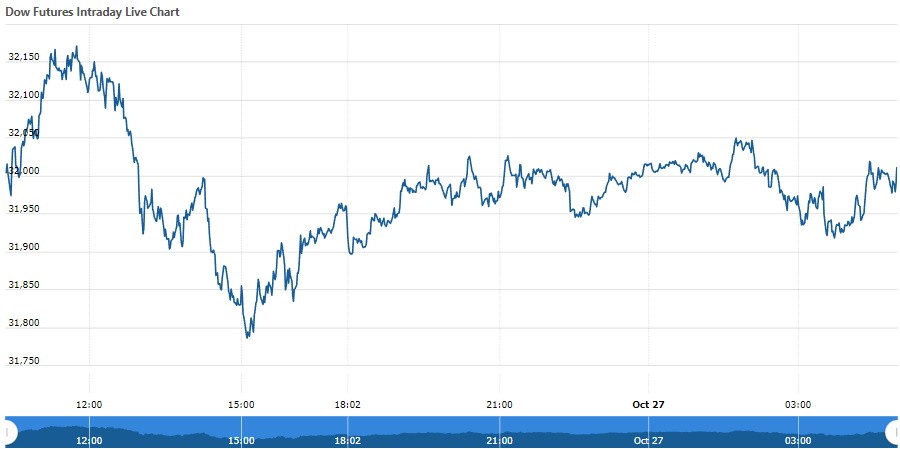 Dow Futures Update : 27 Oct 2022
U.S. stock higher in pre-market trading for Oct 27.The Dow Futures is trading at 31,970.1 up with +0.41% percent or +131.0 point.The S&P 500 Futures is  trading at 3,839.70 up with +0.24% percent or +9.10 point.The Nasdaq Futures is trading at 11,389.0 up with -0.15% percent or -16.9 point.
In other parts of world, Japan's Nikkei 225 is trading at 27,388.42 up with +0.16% percent or +43.42 point. Hong Kong's Hang Seng is trading at 15,547.76 up with +1.50% percent or +230.09  point. China's Shanghai Composite is trading at 2,987.58 with a loss of –0.40% percent or -11.92  point. India's BSE Sensex is trading at 59,761.09 up with +0.36% percent or +217.13 point at 12:15 PM.For the day the FTSE 100 closed at 7,056.07 up with +0.61% percent or +42.59 point. France's CAC 40 closed at 6,276.31up with +0.41% percent or +25.76  point.Germany's DAX closed at 13,195.81 up with +1.09% percent or +142.85 point.
THURSDAY'S FACTORS AND EVENTS
Major corporate earnings on Thursday came from Credit Suisse, Shell, Unilever and TotalEnergies.
Investors are waiting to see the outcome of Thursday's European Central Bank meeting, which is expected to deliver a 75 basis point rate hike. The meeting should also signal the Bank's quantitative tightening plans as the bloc attempts to control its 10% inflation rate.
THURSDAY ACTIVITY
For the day the Dow is trading at 31,839.11 with 0.0074% percent or +2.37 point. The S&P 500 is trading at 3,830.60 with a loss of –0.74% percent or ?28.51 point. The Nasdaq Composite is trading at 10,970.99 with a loss of –2.04% percent or -228.12 point.
Other leading market index closes included the small-cap Russell 2000 Index closed a 1,804.33 up with +0.46% percent or  +8.18 point. the S&P 600 Small-Cap Index closed at 1,167.50 up with +0.35% percent or +4.07  point. the S&P 400 Mid-Cap Index closed at 2,390.57 up with +0.20% percent or +4.86 point. the S&P 100 Index closed at 1,728.32 with a loss of –1.28% percent or  ?22.49 point.the Russell 3000 Index closed at 2,220.06 with a loss of –0.64% percent or ?14.29 point. the Russell 1000 Index closed at 2,105.58 with a loss of –0.71% or ?15.06  point.