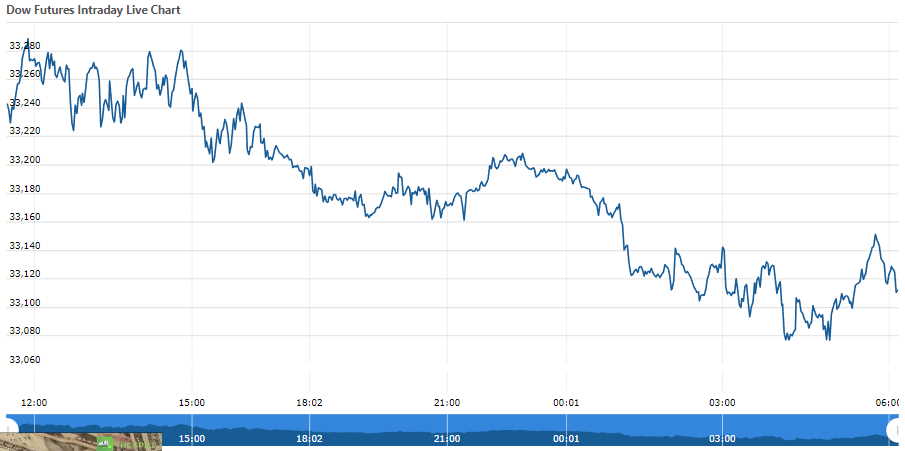 Dow Futures Update : 30 Dec 2022
U.S. stock higher in pre-market trading for Dec  30.The Dow Futures is trading at 32,921.4 up  with +0.14% percent or +45.7 point.The S&P 500 Futures is  trading at 3,793.50 with +0.27% percent or +10.30 point.The Nasdaq Futures is trading at 10,750.0 with +0.66% percent or +70.7 point..
In other parts of world, Japan's Nikkei 225 is trading at 26,060.53 with 1.06%  percent or -279.97 point. Hong Kong's Hang Seng is trading at 19,688.24 up with 1.06% percent or –210.67  point. China's Shanghai Composite is trading at 3,075.19 with a loss of –0.40% percent or -12.21 point. India's BSE Sensex is trading at 60,559.56 with a loss of –0.58% percent or ?350.72 point at 12:15 PM.For the day the FTSE 100 closed at 7,497.19 up with 0.32% percent or +24.18 point. France's CAC 40 closed at 6,510.49 with a loss of -0.61% percent or ?40.17 point.Germany's DAX closed at 13,925.60 with a loss of -0.50% percent or ?69.50 point.
FRIDAY'S FACTORS AND EVENTS
European markets look set to continue the weak sentiment in Asia-Pacific, while U.S. stocks jumped on Thursday, as investors headed into the final trading days of 2022.
THURSDAY ACTIVITY
For the day the Dow is trading at 32,875.71 up with 1.10% percent or ?365.85 point. The S&P 500 is trading at 3,783.22 with a loss of -1.20% percent or ?46.03 point. The Nasdaq Composite is trading at 10,213.29 with a loss of -1.35% percent or ?139.94  point.
Other leading market index closes included the small-cap Russell 2000 Index closed a 1,722.02 with –1.57% percent or  -27.49 point. the S&P 600 Small-Cap Index closed at 1,137.71 with a loss of -1.89% percent or ?21.95 point. the S&P 400 Mid-Cap Index closed at 2,394.71 with a loss of -1.69% percent or ?41.07 point. the S&P 100 Index closed at 1,680.54 with a loss of -1.15% percent or  ?19.60 point.the Russell 3000 Index closed at 2,182.39 with a loss of 1.24% percent or ?27.39 point. the Russell 1000 Index closed at 2,073.78 with a loss of –1.22% or ?25.58 point