U.S. stock futures are higher in pre-market trading for Friday, June 02. The Dow Futures are trading at 21,203.00 for up with +0.34% percent or +71.00 point . The S&P 500 Futures are trading at 2,434.50 for up with +0.21% percent or +5.00 point. The Nasdaq Futures are trading at 5,840.38 for up with +0.32% percent or +18.38 point.
In overnight trading in the Eastern Hemisphere, Japan's Nikkei 225 are trading at 20,177.28 for up with +1.60% percent or +317.25 point. Hong Kong's Hang Seng are trading at 25,924.05 for up with +0.44% percent or +114.83 point. China's Shanghai Composite are trading at 3,105.54 for up with +0.09% percent or +2.92 point. India's S&P BSE Sensex closed at 31,273.29 for up with  +0.44% percent or +135.70 point. In Europe, the FTSE 100 are trading at 7,566.69 for up with +0.30% percent or +22.92 point. Germany's DAX are trading at 12,866.02 for up with +1.59% percent or 201.10 point. France's CAC 40 are trading at 5,365.75 for up with +0.89% percent or +47.08 point. The Stoxx Europe 600 are trading at 394.34   for up with +0.68% percent or +2.70  point.
Friday's Factors and Events
U.S. stock index futures gave back some gains on Friday as investors digested a weaker-than-expected jobs report.
Dow futures traded about 55 points higher after the report's release, having traded about 70 points higher before 8:30 a.m. ET. Still, the 30-stock index was set to open at record levels. S&P and Nasdaq futures traded about 2 points higher and 10 points higher, respectively.
The U.S. economy added 138,000 jobs in May, well below the consensus number of 185,000. Nevertheless, the unemployment rate decreased to 4.3 percent from 4.4 percent.
 The report comes amid hopes that the U.S. economy will accelerate after an anemic first quarter that saw GDP increase just 1.2 percent. President Donald Trump has promised his pro-growth agenda will ignite an economy that has shown steady but slow growth since the end of the Great Recession.
Thursday's Activity
U.S. market indexes were higher Thursday. For the day the Dow Jones Industrial Average closed at 21,144.18 for up with 0.65% percent or 135.53 point. The S&P 500 closed  at 2,430.06 for up with 0.76% percent or 18.26 point. The Nasdaq Composite closed at 6,246.83 for up with 0.78% percent or 48.31 point.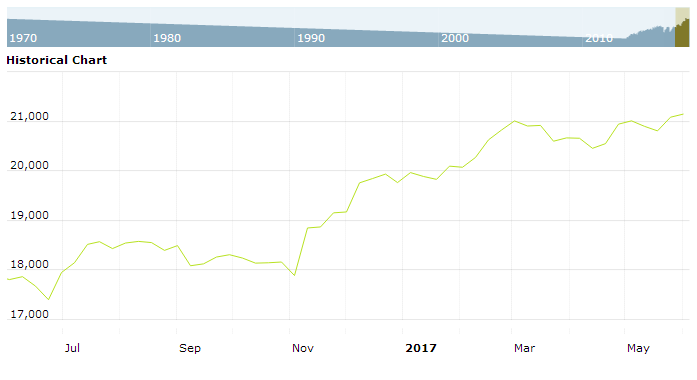 Other leading market index closes included the small-cap Russell 2000 Index closed at 1,396.06 for up with +1.89% percent or +25.85 point; the S&P 600 Small-Cap Index closed at 846.65 for up with +1.74% percent or +14.48 point; the S&P 400 Mid-Cap Index closed at 1,747.87 for up with +1.52% percent or +26.18 point; the S&P 100 Index closed at 1,069.74 for up with +0.64% percent or +6.83 point; the Russell 3000 Index closed at 1,439.05 for up with  +0.91% percent or +12.95 point; the Russell 1000 Index closed at 1,347.28 for up with  +0.83% percent or +11.09 point; and the Dow Jones U.S. Select Dividend Index closed at 21,144.18 for up with 0.65% percent or 135.53 point