U.S. stock futures higher in pre-market trading for Monday, June 11. The Dow Futures is trading at 25,355.00 up with +0.13% percent or +34.00 point.The S&P 500 Futures is trading at 2,782.50 with 0.00% percent or 0.00 point.The Nasdaq Futures is trading at 7,177.00 up with +0.01% percent or +0.50 point.
In overnight trading in the Eastern Hemisphere, Japan's Nikkei 225 is trading at 22,804.04 up with +0.48% percent or +109.54 point. Hong Kong's Hang Seng is trading at 31,046.63 up with +0.29% percent or +88.42 point. China's Shanghai Composite is trading at 3,043.51 with a loss of  0.77% percent or –23.64 point. India's BSE Sensex is trading at 35,614.05 up with +0.48% percent or  +169.58 point at 12:15 PM.The FTSE 100 is trading at 7,742.01 up with +0.79% percent or +60.94 point. Germany's DAX is trading at 12,820.46 up with +0.42% percent or +53.91 point. France's CAC 40 is trading at 5,462.97 up with +0.23% percent or +12.76 point. The Stoxx Europe 600 is trading at 386.94 up with +0.47% percent or +1.80 point.
Monday's Factors and Events
U.S. stock index futures held steady ahead of Monday's open after President Donald Trump lashed out at U.S. allies Canada and Europe on trade issues at the G-7 meeting over the weekend.
Wall Street was also preparing for the hotly anticipated meeting between Trump and North Korean leader Kim Jong Un in Singapore, set to occur on Tuesday.
Around 7:32 a.m. ET, Dow futures rose 4 points, indicating a flat open. The Nasdaq and the S&P 500 futures also indicated a relatively flat start to the session for their respective markets.
U.S. market were higher on Friday.For the day the Dow is trading at 25,316.53 up with +0.30% percent or +75.12 point. The S&P 500 is trading at 2,779.03 up with  +0.31% percent or  +8.66 point. The Nasdaq Composite is trading at 7,645.51 up with +0.14% percent or  +10.44 point.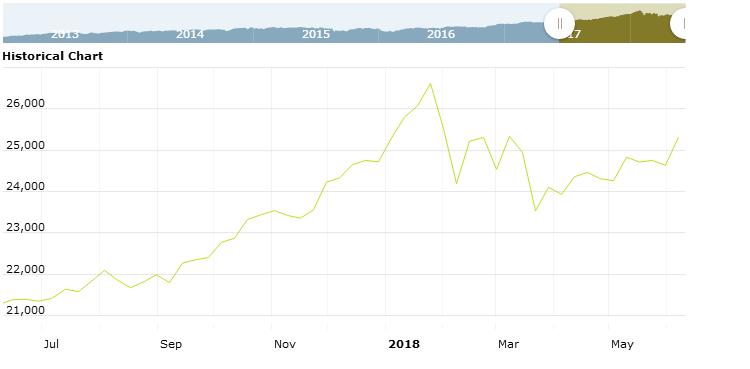 Other leading market index closes included the small-cap Russell 2000 Index closed at 1,672.49  up with +0.28% percent or+4.72 point; the S&P 600 Small-Cap Index closed at 1,038.61 up with +0.28% percent or +2.91 point; the S&P 400 Mid-Cap Index closed at 2,000.67 up with +0.50% percent or +9.89point; the S&P 100 Index closed at 1,221.79 up with +0.25% percent or +3.07 point; the Russell 3000 Index closed at 1,654.74  up with  +0.32% percent or +5.33 point; the Russell 1000 Index closed at 1,543.88 up with +0.33% percent or +5.02 point;