U.S. stock futures lower in pre-market trading for Tuesday, June 12. The Dow Futures is trading at 25,311.00 with a loss of -0.15% percent or -37.00 point.The S&P 500 Futures is trading at 2,784.25 with a loss of -0.09% percent or -0.12% point.The Nasdaq Futures is trading at 7,187.00 with a loss of -0.13% percent or -9.00 point.
In overnight trading in the Eastern Hemisphere, Japan's Nikkei 225 is trading at 22,878.35 up with +0.33% percent or +74.31 point. Hong Kong's Hang Seng is trading at 31,155.85 up with +0.30% percent or +92.15 point. China's Shanghai Composite is trading at 3,079.80 up with +0.89% percent or +27.02 point. India's BSE Sensex is trading at 35,677.17  up with +0.55% percent or  +193.70 point at 12:15 PM.The FTSE 100 is trading at 7,718.67 with a loss of –0.24% percent or –18.76 point. Germany's DAX is trading at 12,848.68 up with +0.040% percent or +5.16  point. France's CAC 40 is trading at 5,464.53 with a loss of –0.17% percent or –9.38 point. The Stoxx Europe 600 is trading at 388.31 up with +0.10% percent or +0.32 point.
Tuesday's Factors and Events
Investors digested the latest news out of a historic meeting between the leaders of North Korea and the U.S. in Singapore.
Following weeks of anticipation, President Donald Trump and North Korean leader Kim Jong Un met in the city-state of Singapore, which saw Kim sign an accord that "reaffirmed his firm and unwavering commitment to complete denuclearization of the Korean Peninsula."
While the news appears reassuring, investors remain on edge as to what each country will see as "complete denuclearization." Following the meeting, Trump stated that the Korean conflict would end shortly, adding that both leaders learned a lot about one another.
For the day the Dow is trading at 25,322.31  up with +0.023% percent or +5.78 point. The S&P 500 is trading at 2,782.00 up with  +0.31% percent or  +0.11% point. The Nasdaq Composite is trading at 7,659.93 up with +0.19% percent or  +14.41 point.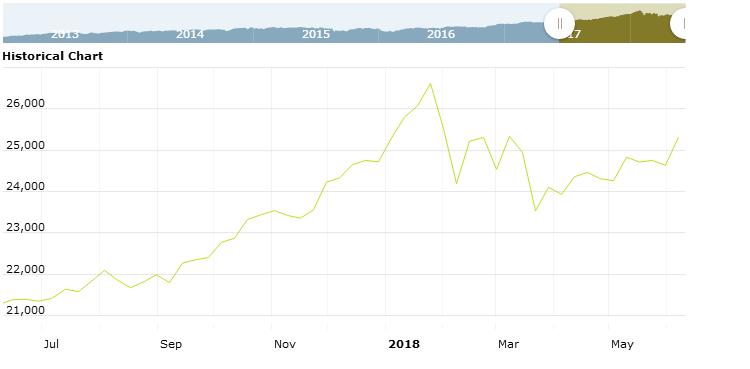 Other leading market index closes included the small-cap Russell 2000 Index closed at 1,674.68 up with +0.13% percent or+2.19 point; the S&P 600 Small-Cap Index closed at 1,041.08 up with +0.28% percent or +2.47 point; the S&P 400 Mid-Cap Index closed at 2,000.90  up with +0.011% percent or +0.23 9point; the S&P 100 Index closed at 1,222.43 up with +0.052% percent or +0.64 point; the Russell 3000 Index closed at 1,656.43 up with  +0.10% percent or +1.68 point; the Russell 1000 Index closed at 1,545.41 up with +0.099% percent or +1.53 point;