U.S. stock futures lower in pre-market trading for Tuesday, June 26. The Dow Futures is trading at 24,235.00 with  a loss of -0.18% percent or  -44.00 point. The S&P 500 Futures is trading at 2,716.75 with  a loss of -0.20% percent or  -5.50 point.The Nasdaq Futures is trading at 7,066.75 with a loss of  -0.10% percent or -6.75 point.
In overnight trading in the Eastern Hemisphere, Japan's Nikkei 225 is trading at 22,342.00 up with  +0.017% percent or +3.85 point. Hong Kong's Hang Seng is trading at 28,876.95 with a loss of -0.29% percent or -84.44 point. China's Shanghai Composite is trading at 2,844.51 with a loss of  -0.52% percent or  -14.83 point. India's BSE Sensex is trading at 35,492.88 up with +0.064% percent or +22.53 point at 12:15 PM.The FTSE 100 is trading at 7,547.53 UP with + 0.50% percent or  +37.69 point. Germany's DAX is trading at 12,269.39  with a loss of  -0.0077% percent or  -0.94 point. France's CAC 40 is trading at 5,298.94  UP  with +0.29% percent or +15.08 point. The Stoxx Europe 600 is trading at 377.68 up with +0.16% percent or +0.59 point.
Tuesday's Factors and Events
The moves in premarket trade came after U.S. stock markets tumbled deep into the red on Tuesday, as trade tensions continued to escalate.
Last week, President Donald Trump took to Twitter to threaten another set of tariffs, this time on the European Union. On Friday, the U.S. incumbent warned of a 20 percent tariff on all car imports from the EU, stating that if the bloc refused to remove its duties on U.S. vehicles, then Washington would have no choice but to act.
On Monday, fears reached new highs after reports surfaced that Washington intended to block some Chinese businesses from investing in U.S. technology. Treasury Secretary Steven Mnuchin, however, called the report "fake news" on Twitter.
U.S. market were lower on Monday.For the day the Dow is trading at 24,252.80 with a loss of -1.33% percent or -328.09 point. The S&P 500 is trading at 2,717.07  with a loss of -1.37% percent or  -37.81 point. The Nasdaq Composite is trading at 7,532.01 with a loss of -2.09% percent or -160.81 point.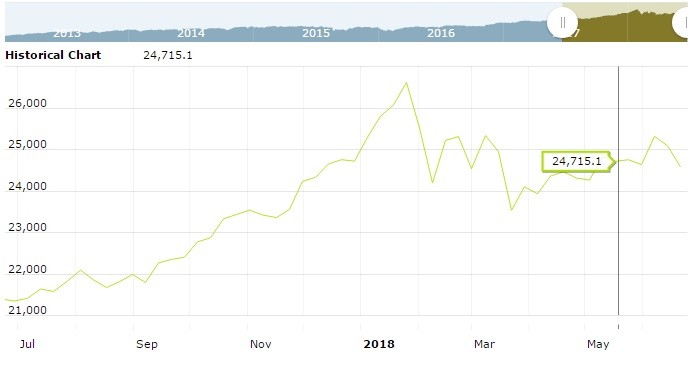 Other leading market index closes included the small-cap Russell 2000 Index closed at 1,657.51 with a loss of  -1.67% percent or  -28.07 point; the S&P 600 Small-Cap Index closed at 1,025.84 with a loss of  -1.60% percent or  -16.73  point; the S&P 400 Mid-Cap Index closed at 1,960.90 with a loss of  -1.44% percent or  -28.71 point; the S&P 100 Index closed at 1,191.80 with a loss of  -1.48% percent or -17.90 point; the Russell 3000 Index closed at 1,619.78  with a loss of  -1.44% percent or -23.62 point; the Russell 1000 Index closed at 1,509.63  with a loss of -1.42% percent or  -21.71 point;