U.S. stock futures lower in pre-market trading for Wednesday, June 27. The Dow Futures is trading at 24,190.00 with  a loss of -0.46% percent or  -113.00 point. The S&P 500 Futures is trading at 2,718.75 with  a loss of -0.36% percent or  -9.75 point. The Nasdaq Futures is trading at 7,049.75 with a loss of  -0.76% percent or -54.25 point.
In overnight trading in the Eastern Hemisphere, Japan's Nikkei 225 is trading at 22,271.77  with a loss of – 0.31% percent or -70.23 point. Hong Kong's Hang Seng is trading at 28,362.09 with a loss of -1.80% percent or -519.31 point. China's Shanghai Composite is trading at 2,813.18 with a loss of  -1.10% percent or  -31.33 point. India's BSE Sensex is trading at 35,252.78  with  a loss of -0.67% percent or  -237.26 point at 12:15 PM..The FTSE 100 is trading at 7,559.66 UP with + 0.29% percent or  +21.74 point. Germany's DAX is trading at 12,258.27 UP with +0.20% percent or +23.93 point. France's CAC 40 is trading at 5,290.29  UP  with +0.17% percent or +9.00 point. The Stoxx Europe 600 is trading at 377.40 up with +0.03% percent or +0.12 point.
Wednesday's Factors and Events
U.S. stock index futures fell of Wednesday's open, as global trade fears added jitters to markets around the world.
Dow Jones Industrial Average futures fell 136 points, indicating a negative open of 114 points. Nasdaq 100 and the S&P 500 also futures indicated a downbeat start to the session.
Markets around the world have been on a roller-coaster ride in recent weeks as fears around trade tensions between the U.S. and other major economies escalate. Not only is the U.S. in a tit-for-tat war of words with China on tariffs, but now the European Union is involved.
Last week, President Donald Trump threatened a 20 percent tariff on all car imports from the EU. He added that if the EU chose not to remove its duties on American vehicles, then the U.S. would have no choice but to act on those levies.
For the day the Dow is trading at 24,283.11 up  with +0.12% percent or  +30.31 point. The S&P 500 is trading at 2,723.06  up with +0.22% percent or  +5.99 point. The Nasdaq Composite is trading at 7,561.63 up with +0.39% percent or +29.62 point.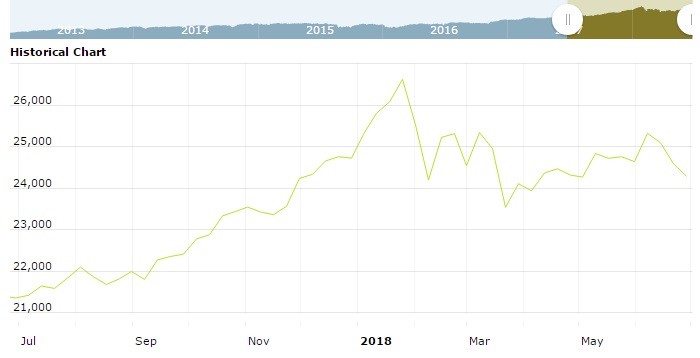 Other leading market index closes included the small-cap Russell 2000 Index closed at 1,668.53 up with +0.66% percent or +11.02 point; the S&P 600 Small-Cap Index closed at 1,033.31 up with +0.73% percent or  +7.47  point; the S&P 400 Mid-Cap Index closed at 1,965.11 up with +0.21% percent or +4.21 point; the S&P 100 Index closed at 1,195.14 up with +0.28% percent or +3.34 point; the Russell 3000 Index closed at 1,624.09 up with +0.27% percent or +4.32 point; the Russell 1000 Index closed at 1,513.14 up with +0.23% percent or +3.51 point;