U.S. stock futures higher in pre-market trading for Thursday, June 28. The Dow Futures is trading at 24,177.00 up with +0.17% percent or +42.00 point. The S&P 500 Futures is trading at 2,710.50 up with +0.20% percent or +5.50 point. The Nasdaq Futures is trading at 7,013.25 up with +0.21% percent or +20.00 point.
In overnight trading in the Eastern Hemisphere, Japan's Nikkei 225 is trading at 22,270.39 with a loss of – 0.0062% percent or -1.38 point. Hong Kong's Hang Seng is trading at 28,468.11 up with + 0.39% percent or +111.51 point. China's Shanghai Composite is trading at 2,786.90 with a loss of  -0.93% percent or  -26.28 point. India's BSE Sensex is trading at 35,139.80 with  a loss of -0.22% percent or  -77.31 point at 12:15 PM.The FTSE 100 is trading at 7,607.55  with a loss of  -0.19% percent or  -14.45 point. Germany's DAX is trading at 12,268.27  with a loss of -0.65% percent or -80.34 point. France's CAC 40 is trading at 5,310.79   with a loss of  -0.31% percent or -16.41 point. The Stoxx Europe 600 is trading at 378.14  with a loss of  -0.49% percent or –0.53 point.
Thursday's Factors and Events
Markets around the world continued their roller-coaster ride Thursday, as concerns surrounding a potential trade war between the U.S. and major other economies rattled investors. Not only is the U.S. in a tit-for-tat war of words with China on tariffs, but now the European Union is involved after President Donald Trump took to Twitter last week to threaten a 20 percent tariff on all car imports from the bloc.
On Wednesday, a Trump administration official stated that the government would rely on the U.S. Committee on Foreign Investment to take care of matters concerning foreign purchase of domestic technologies that are deemed sensitive. As the topic of trade continues to keep investors around the world on edge, markets appear to be doing the same – awaiting any information.
For the day the Dow is trading at 24,117.59 with a loss of -0.68% percent or  -165.52 point. The S&P 500 is trading at 2,699.63 with a loss of -0.86% percent or -23.43 point. The Nasdaq Composite is trading at 7,445.08  with a loss of -1.54% percent or  -116.54 point.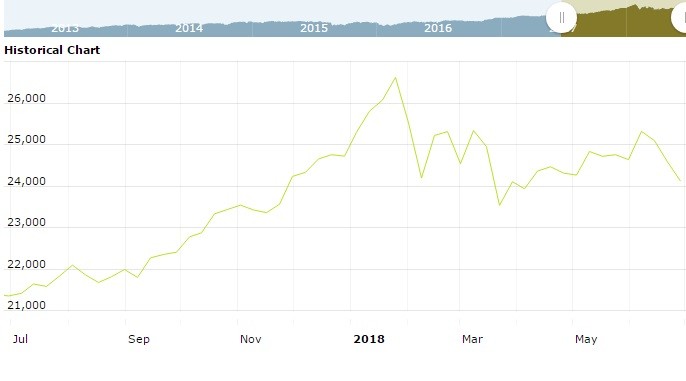 Other leading market index closes included the small-cap Russell 2000 Index closed at 1,640.45 with a loss of -1.68% percent or -28.07 point; the S&P 600 Small-Cap Index closed at 1,017.36 with a loss of -1.54% percent or -15.95 point; the S&P 400 Mid-Cap Index closed at 1,942.81 with a loss of  -1.13% percent or -22.30 point; the S&P 100 Index closed at 1,185.25 with a loss of  -0.83% percent or -9.89 point; the Russell 3000 Index closed at 1,608.39 with a loss of  -0.97% percent or  -15.70 point; the Russell 1000 Index closed at 1,499.44  with a loss of -0.91% percent or -13.70 point;