U.S. stock futures lower in pre-market trading for Friday, July 20.The Dow Futures is trading at 24,954.00  with a loss of -0.42% percent or -105.00 point. The S&P 500 Futures is trading at 2,798.25 with a loss of -0.25% percent or -7.00 point.The Nasdaq Futures is trading at 7,370.75 up with +0.04% percent or +3.00 point.
In overnight trading in the Eastern Hemisphere, Japan's Nikkei 225 is trading at22,697.88 with a loss of -0.29% percent or -66.80 point. Hong Kong's Hang Seng is trading at 28,223.93 up with +0.76% percent or +213.07 point. China's Shanghai Composite is trading at 2,829.27 up with +2.05% percent or  +56.73 point. India's BSE Sensex is trading at 36,457.64 up with  + 0.29% percent or +103.70  point at 12:15 PM.The FTSE 100 is trading at 7,669.02  with a loss of – 0.19% percent or  -14.95 point. Germany's DAX is trading at 12,624.91 with a loss of -0.48% percent or -61.38 point. France's CAC 40 is trading at 5,382.28   with a loss of -0.64% percent or -34.79 point. The Stoxx Europe 600 is trading at 385.17 with a loss of -385.17 percent or -0.91 point.
Friday's Factors and Events
U.S. stock index futures declined after President Donald Trump said he is ready to put tariffs on every Chinese good coming to the U.S. if necessary.
"I'm ready to go to 500," the president told CNBC's Joe Kernen in a "Squawk Box" interview.
Futures fell to their lows after the airing of the interview Friday morning New York time.
"That's going to reignite the trade-war fears," said Peter Cardillo, chief market economist at Spartan Capital Securities. "That can only complicate things in the market."
For the day the Dow is trading at 25,064.50 with a loss of -0.53% percent or  -134.79 point. The S&P 500 is trading at 2,804.49  with a loss of -0.40% percent or -11.13 point. The Nasdaq Composite is trading at 7,825.30  with a loss of -0.37% percent or  -29.15 point.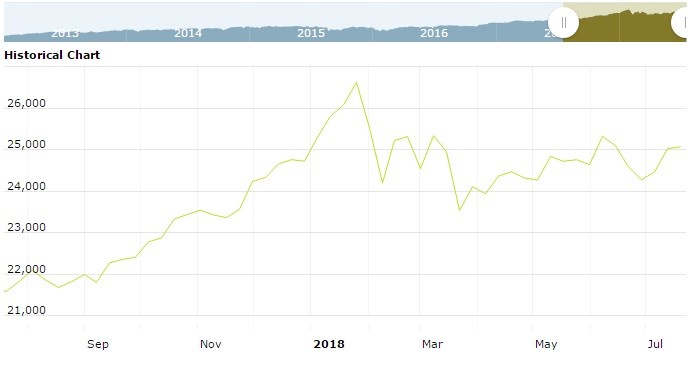 Other leading market index closes included the small-cap Russell 2000 Index closed at 1,701.31 up with +0.56% percent or +9.44 point; the S&P 600 Small-Cap Index closed at 1,058.97 up with +0.65% percent or +6.84 point; the S&P 400 Mid-Cap Index closed at 2,009.05 up with +0.39% percent or +7.80 point; the S&P 100 Index closed at 1,235.98  with a loss of – 0.53% percent or  -6.62 point; the Russell 3000 Index closed at 1,670.79  with a loss of -0.28% percent or -4.66  point; the Russell 1000 Index closed at 1,557.83 with a loss of -0.35% percent or -5.45 point;