U.S. stock futures lower in pre-market trading for Monday, July 23.The Dow Futures is trading at 25,014.00 with a loss of -0.06% percent or -16.00 point. The S&P 500 Futures is trading at 2,798.75 with a loss of -0.07% percent or -2.00 point.The Nasdaq Futures is trading at 7,329.75  with a loss of  -0.41% percent or -30.25 point.
In overnight trading in the Eastern Hemisphere, Japan's Nikkei 225 is trading at 22,396.99 with a loss of -1.33% percent or -300.89 point. Hong Kong's Hang Seng is trading at 28,292.91 up with +0.24% percent or +68.43 point. China's Shanghai Composite is trading at 2,857.89 up with +1.01% percent or  +29.08 point. India's BSE Sensex is trading at 36,581.36 up with  + 0.23% percent or +84.99  point at 12:15 PM.The FTSE 100 is trading at 7,646.32 with a loss of – 0.42% percent or  -32.47 point. Germany's DAX is trading at 12,503.45 with a loss of -0.46% percent or -57.97 point. France's CAC 40 is trading at 5,362.47   with a loss of -0.66% percent or -35.85 point. The Stoxx Europe 600 is trading at 384.38 with a loss of -0.32% percent or -1.23 point.
Monday's Factors and Events
News out of the U.S. administration continues to shake up sentiment across the globe Monday, with international markets falling into the red before the Wall Street open. Markets have been on edge following recent comments by the U.S. President Donald Trump who said he was "not thrilled" about rising interest rates, and expressed concern that the U.S. central bank could upset the economic recovery.
Late Sunday evening, Trump threatened Iran's leader Hassan Rouhani to "never, ever threaten" the U.S. again or else "suffer consequences". The tweet comes shortly after President Rouhani issued his own warning to Trump about pursuing hostile policies against Tehran.
At a G-20 meeting in Argentina over the weekend, finance leaders from the world's biggest economies called for more dialog to help prevent geopolitical and trade tensions from negatively impacting global economic growth, according to Reuters.
For the day the Dow is trading at 25,058.12 with a loss of -0.025% percent or  -6.38 point. The S&P 500 is trading at 2,801.83  with a loss of -0.095% percent or -2.66 point. The Nasdaq Composite is trading at 7,820.20 with a loss of -0.065% percent or  -5.10 point.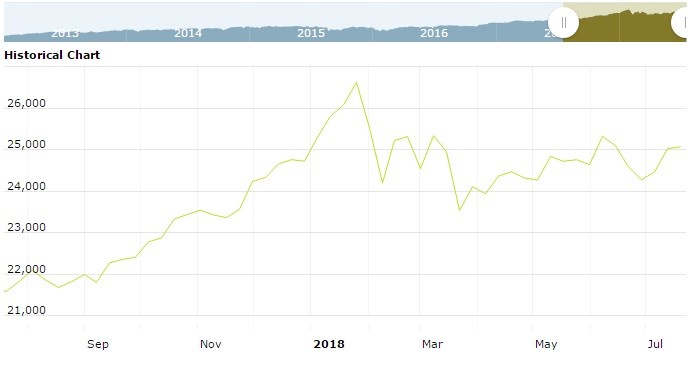 Other leading market index closes included the small-cap Russell 2000 Index closed at 1,696.81 with a loss of -0.26% percent or -4.50 point; the S&P 600 Small-Cap Index closed at 1,055.99  with a loss of -0.28% percent or -2.98 point; the S&P 400 Mid-Cap Index closed at 1,998.36 with a loss of -0.53% percent or -10.69 point; the S&P 100 Index closed at 1,236.33 up with +0.028% percent or +0.35 point; the Russell 3000 Index closed at 1,668.44 with a loss of -0.14% percent or -2.35 point; the Russell 1000 Index closed at 1,555.80 with a loss of -0.13% percent or -2.03 point;