U.S. stock futures higher in pre-market trading for Tuesday, July 24.The Dow Futures is trading at 25,121.00 up with +0.35% percent or +88.00 point. The S&P 500 Futures is trading at 2,817.50  up with +0.20% percent or +5.50 point. The Nasdaq Futures is trading at 7,441.00 up with +0.14% percent or +11.50 point.
In overnight trading in the Eastern Hemisphere, Japan's Nikkei 225 is trading at 22,510.48 up with +0.51% percent or  +113.49 point. Hong Kong's Hang Seng is trading at 28,664.00 up with +1.44% percent or +407.88 point. China's Shanghai Composite is trading at 2,905.56 up with +1.61% percent or  +46.02 point. India's BSE Sensex is trading at 36,775.90 up with  + 0.16% percent or +57.30  point at 12:15 PM.The FTSE 100 is trading at 7,720.79 UP with +0.85% percent or  +65.00 point. Germany's DAX is trading at 12,744.41 UP with +1.56% percent or +197.11 point. France's CAC 40 is trading at 5,432.58 UP  with +1.01% percent or +54.05 point. The Stoxx Europe 600 is trading at 388.72 UP with +0.99% percent or +3.76 point.
Tuesday's Factors and Events
U.S. stock index futures rose prior to Tuesday's open, as investors turned their attention to another wave of corporate earnings. Google parent company Alphabet boosted the technology sector after reporting second-quarter earnings that showed a big bottom-line beat on estimates.
At around 5:05 a.m. ET, Dow futures popped 87 points, indicating an upbeat open of 97.71 points. The Nasdaq and the S&P 500 futures indicated a positive start to their respective trading sessions too.
Earnings season is back again and a large number of businesses are expected to issue their latest financial updates on Tuesday.
For the day the Dow is trading at 25,044.29 with a loss of -0.055% percent or  -13.83 point. The S&P 500 is trading at 2,806.98  up with +0.18% percent or  +5.15 point. The Nasdaq Composite is trading at 7,841.87 up with +0.28% percent or +21.67 point.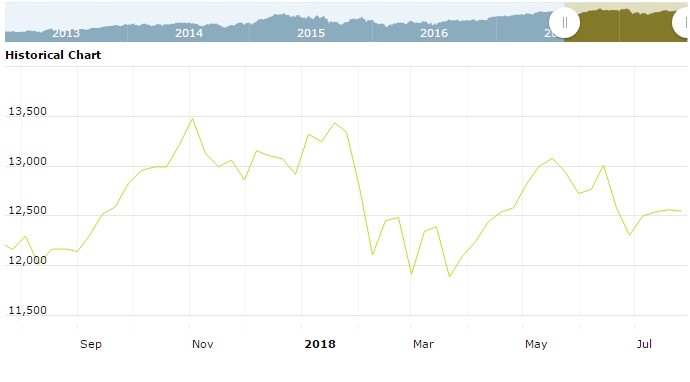 Other leading market index closes included the small-cap Russell 2000 Index closed at 1,698.41 up with +0.095% percent or +1.61 point; the S&P 600 Small-Cap Index closed at 1,055.76  with a loss of -0.022% percent or -0.23 point; the S&P 400 Mid-Cap Index closed at 1,998.01 with a loss of -0.018% percent or -0.35 point; the S&P 100 Index closed at 1,239.46 up with +0.25% percent or +3.13 point; the Russell 3000 Index closed at 1,670.95 up  with +0.15% percent or +2.51 point; the Russell 1000 Index closed at 1,558.22 up with +2.41 percent or -2.03 point;