U.S. stock futures mixed in pre-market trading for Wednesday, July 25.The Dow Futures is trading at 25,213.00 with 0.00% percent or -1.00 point. The S&P 500 Futures is trading at 2,818.75 with a loss of -0.08% percent or – 2.25 point. The Nasdaq Futures is trading at 7,417.75 up with +0.02% percent or +1.75 point.
In overnight trading in the Eastern Hemisphere, Japan's Nikkei 225 is trading at 22,614.25 up with 0.46% percent or +103.77 point. Hong Kong's Hang Seng is trading at 28,923.52 up with +0.91% percent or +260.95 point. China's Shanghai Composite is trading at 2,903.65  with  a loss of  -0.066% percent or ?1.92 point. India's BSE Sensex is trading at 36,915.78 up with  +0.25% percent or +90.68  point at 12:15 PM.The FTSE 100 is trading at 7,670.30  with a loss of -0.50% percent or -38.75 point. Germany's DAX is trading at 12,661.53  with a loss of -0.22% percent or -27.86 point. France's CAC 40 is trading at 5,437.92 UP  with +0.069% percent or +3.73 point. The Stoxx Europe 600 is trading at 387.99  with a loss of -0.05% percent or -0.18 point.
Wednesday's Factors and Events
Stocks closed higher Today after strong financial results from Google-parent Alphabet led a wave of upbeat corporate earnings.
The Dow Jones Industrial Average rose 197.65 points to 25,241.94 with United Technologies leading the blue-chip names. The S&P 500 added 0.5 percent to 2,820.40 thanks to gains in materials, telecommunications and energy stocks. The Nasdaq Compositeoriginally rose more than 1 percent to an all-time high, but failed to hold those gains and closed just below breakeven at 7,840.77.
For the day the Dow is trading at 25,241.94 up with +0.79% percent or +197.65 point. The S&P 500 is trading at 2,820.40 up with +0.48% percent or +13.42 point. The Nasdaq Composite is trading at 7,840.77  with a loss of -0.014% percent or  -1.10 point.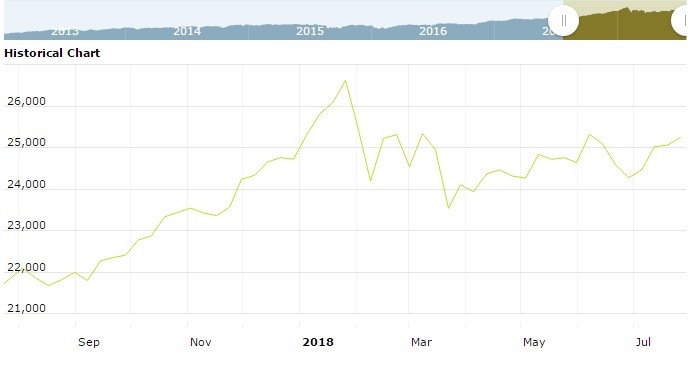 Other leading market index closes included the small-cap Russell 2000 Index closed at 1,680.20  with a loss of -1.07% percent or  -18.22 point; the S&P 600 Small-Cap Index closed at 1,046.24  with a loss of -0.90% percent or -9.52 point; the S&P 400 Mid-Cap Index closed at 1,983.01 with a loss of -0.75% percent or -15.00 point; the S&P 100 Index closed at 1,249.94 up with +0.85% percent or +10.48 point; the Russell 3000 Index closed at 1,674.48 up  with +0.21% percent or +3.53 point; the Russell 1000 Index closed at 1,563.19 up with +0.32% percent or  +4.98 point;