U.S. stock futures lower  in pre-market trading for Thursday, August 30.The Dow Futures is trading at 26,075.00 with a loss of  -0.28% percent or  -72.00 point. The S&P 500 Futures is trading at 2,909.50 with a loss of -0.18% percent or  -5.25 point.The Nasdaq Futures is trading at 7,653.50  with a loss of  -0.20% percent or -15.25 point.
In overnight trading in the Eastern Hemisphere,Japan's Nikkei 225 is trading at 22,869.50 up with +0.093% percent or +21.28 point. Hong Kong's Hang Seng is trading at 28,178.08  with  a loss of -0.84% percent or  -238.36 point. China's Shanghai Composite is trading at 2,737.74 with a loss of -1.14% percent or -31.56  point. India's BSE Sensex is trading at 38,711.27  with a loss of -0.030% percent or  -11.66  point at 12:15 PM.The FTSE 100 is trading at 7,516.88   with a loss of -0.61% percent or -46.33 point. Germany's DAX is trading at 12,521.92  with a loss of -0.32% percent or -39.76  point. France's CAC 40 is trading at 5,492.57  with a loss of -0.16% percent or -8.76 point. The Stoxx Europe 600 is trading at 385.54  with a loss of -0.27% percent or -1.05  point.
Thursday's Factors and Events
U.S. government debt prices edged higher on Thursday.
During today's session, economic data scheduled for release includes jobless claims, personal income and outlays, and core personal consumption expenditure (PCE) figures, all due to come out at 8:30 a.m. ET.
The U.S. Treasury is set to announce the size of three individual bills set to be auctioned next week.
But it will be political developments that are likely to keep investors busy Thursday.
U.S. market were higher on Wednesday.For the day the Dow is trading at 26,124.57 up with +0.23% percent or +60.55 point. The S&P 500 is trading at 2,914.04  up with +0.57% percent or +16.52 point. The Nasdaq Composite is trading at 8,109.69 up with +0.99% percent or +79.65  point.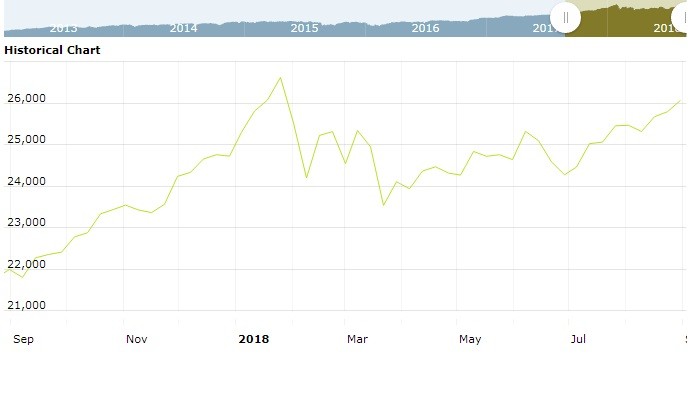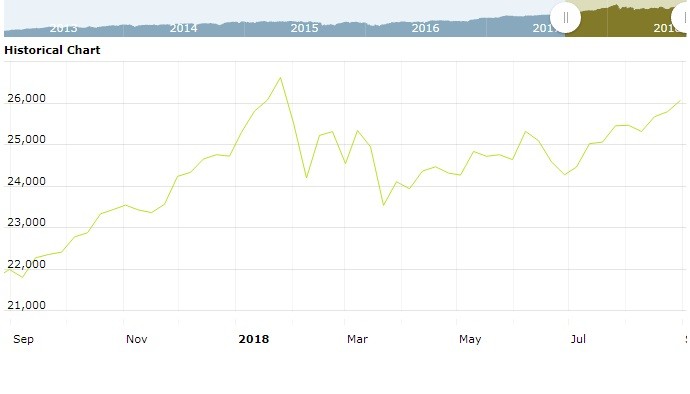 Other leading market index closes included the small-cap Russell 2000 Index closed at 1,734.75 up with +0.37% percent or +6.33 point; the S&P 600 Small-Cap Index closed at 1,094.34 up with +0.16% percent or +1.70 point; the S&P 400 Mid-Cap Index closed at 2,050.23 up with +0.31% percent or +6.29 point; the S&P 100 Index closed at 1,291.51  up with +0.64% percent or +8.27 point; the Russell 3000 Index closed at 1,732.12 up with +0.041%0.54% percent or +9.29 point; the Russell 1000 Index closed at 1,617.25  up with +0.55% percent or +8.90 point;