U.S. stock futures mixed  in pre-market trading for Tuesday, September 04.The Dow Futures is trading at 25,954.00 with a loss of  -0.13% percent or  -34.00 point. The S&P 500 Futures is trading at 2,902.25 up with +0.01% percent or  +0.25 point. The Nasdaq Futures is trading at 7,665.75  up with +0.03% percent or +2.50 point.
In overnight trading in the Eastern Hemisphere,Japan's Nikkei 225 is trading at 22,696.90 with a loss of -0.046%percent or -10.48 point. Hong Kong's Hang Seng is trading at 27,963.82  up with  +0.91% percent or  +251.28 point. China's Shanghai Composite is trading at 2,750.58 up with +2,750.58 percent or +29.85  point. India's BSE Sensex is trading at 38,372.36 up with +0.16% percent or  +59.84 point at 12:15 PM.The FTSE 100 is trading at 7,474.87   with a loss of -0.40% percent or -29.91 point. Germany's DAX is trading at 12,232.33  with a loss of -0.92% percent or -114.08  point. France's CAC 40 is trading at 5,356.99  with a loss of -1.05% percent or -56.80 point. The Stoxx Europe 600 is trading at 380.32  with a loss of -0.58% percent or -2.20 point.
Tuesday's Factors and Events
The yield on the benchmark 10-year Treasury note was higher at around 2.873 percent at 5:40 a.m. ET, while the yield on the 30-year Treasury bond was in the black at 3.039 percent. Bond yields move inversely to prices.
the U.S. and Canada failed to secure an agreement to replace the current NAFTA pact by the Friday deadline. While a deal has been arranged with Mexico, President Donald Trump tweeted over the weekend that there was "no political necessity to keep Canada in the new NAFTA deal."
For the day the Dow is trading at 25,964.82  with a loss of -0.085% percent or -22.10 point. The S&P 500 is trading at 2,901.52  up with +0.013% percent or +0.39 point. The Nasdaq Composite is trading at 8,109.548,109.54 up with +0.26% percent or +21.17 point.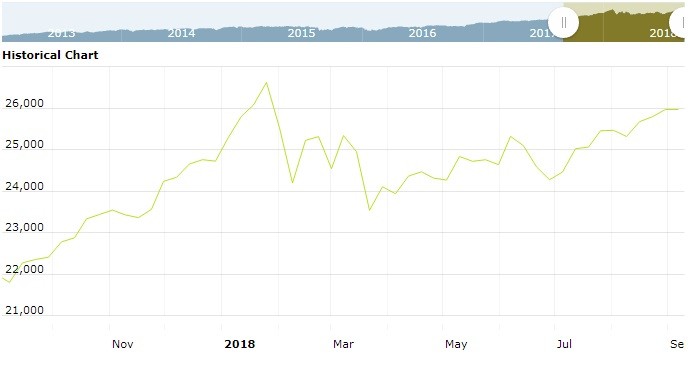 Other leading market index closes included the small-cap Russell 2000 Index closed at 1,740.75 up with +0.48% percent or +8.40 point; the S&P 600 Small-Cap Index closed at 1,098.36 up with +0.60% percent or +6.50 point; the S&P 400 Mid-Cap Index closed at 2,044.70 up with +0.26% percent or +5.21 point; the S&P 100 Index closed at 1,286.90   with a loss of  -0.036% percent or -0.46 point; the Russell 3000 Index closed at 1,726.09 up with +0.074% percent or +1.28 point; the Russell 1000 Index closed at 1,610.70  up with +0.040% percent or +0.65  point;