U.S. stock futures mixed  in pre-market trading for Thursday, September 06.The Dow Futures is trading at 25,989.00 up with +0.06% percent or  +16.00 point. The S&P 500 Futures is trading at 2,887.50  with a loss of -0.03% percent or  -0.75 point. The Nasdaq Futures is trading at 7,522.50   with a loss of -0.12% percent or -9.25 point.
In overnight trading in the Eastern Hemisphere,Japan's Nikkei 225 is trading at 22,487.94 with a loss of -0.41% percent or -92.89 point. Hong Kong's Hang Seng is trading at 26,884.53  with a loss of  -1.32% percent or  -359.32 point. China's Shanghai Composite is trading at 2,691.59 with a loss of  -0.47% percent or -12.74 point. India's BSE Sensex is trading at 37,989.36 with a loss of -0.076% percent or  -28.95 point at 12:15 PM.The FTSE 100 is trading at 7,372.47 with a loss of -0.15% percent or -11.43 point. Germany's DAX is trading at 12,032.29  with a loss of -0.068% percent or -8.17  point. France's CAC 40 is trading at 5,264.22 up with +0.076%% percent or +4.01 point. The Stoxx Europe 600 is trading at 377.62  with a loss of -0.58% percent or -2.21 point.
Thursday's Factors and Events
U.S. stock index futures indicated a flat open on Thursday as Wall Street looked to trade negotiations with Canada and awaited key economic data.
Officials from the U.S. and Canada worked late into the night on Wednesday, as both sides sought to secure a new trade agreement to replace the current North American Free Trade Agreement (NAFTA) pact, a deal they failed to secure by last Friday's initial deadline. These extended talks are likely to continue in the coming days, and could potentially last weeks.
For the day the Dow is trading at 25,974.99  up with +0.087% percent or +22.51 point. The S&P 500 is trading at 2,888.60 with a loss of -0.28% percent or -8.12 point. The Nasdaq Composite is trading at 7,995.17  with a loss of -1.19% percent or -96.07 point.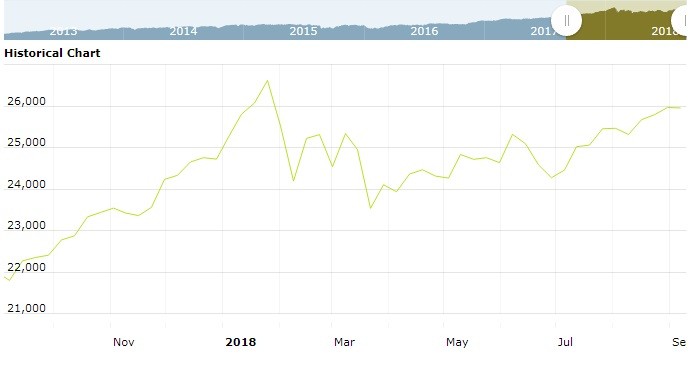 Other leading market index closes included the small-cap Russell 2000 Index closed at 1,727.65  with a loss of -0.33% percent or -5.73 point; the S&P 600 Small-Cap Index closed at 1,091.76 with a loss of  -0.17% percent or -1.82 point; the S&P 400 Mid-Cap Index closed at 2,038.55 with a loss of -0.094% percent or -1.91 point; the S&P 100 Index closed at 1,279.43   with a loss of  -0.36% percent or -4.60  point; the Russell 3000 Index closed at 1,717.55  with a loss of -0.33% percent or -5.68 point; the Russell 1000 Index closed at 1,603.08  with a loss of -0.33% percent or -5.30 point;