U.S. stock futures higher  in pre-market trading for Thursday, September 20.The Dow Futures is trading at 26,506.00  up with +0.17% percent or  +44.00 point.The S&P 500 Futures is trading at 2,917.50 up with +0.09% percent or +2.50 point.The Nasdaq Futures is trading at 7,535.00  up with +0.11% percent or +8.50 point.
In overnight trading in the Eastern Hemisphere, Japan's Nikkei 225 is trading at 23,674.93 up with +0.010% percent or +2.41 point. Hong Kong's Hang Seng is trading at 27,400.85   with a loss of -0.024% percent or  -6.52 point. China's Shanghai Composite is trading at 2,728.33  with a loss of -0.092% percent or  -2.53 point. India's BSE Sensex is trading at 37,121.22 with  a loss of -0.45%  percent or -169.45  point at 12:15 PM.The FTSE 100 is trading at 7,345.09 up with +0.19% percent or +13.97  point. Germany's DAX is trading at 12,279.10  up with +0.49% percent or  +60.08 point. France's CAC 40 is trading at 5,432.76  up with +0.72% percent or  +39.03 point. The Stoxx Europe 600 is trading at 381.86 up with  +0.49% percent or +1.85  point.
Thursday's Factors and Events
The moves in pre-market trade came after Wall Street closed Wednesday's session on a strong note, with the Dow soaring more than 150 points.
Investors continue to monitor the trade rift between the U.S. and China. On Monday, the U.S. administration announced that it would inflict 10 percent tariffs on $200 billion worth of Chinese imports, which would rise to 25 percent by year-end.
China retaliated Tuesday by announcing levies targeting over 5,000 American products worth $60 billion and to go into effect next week. The country has also filed a complaint with the World Trade Organization about the U.S.' latest round of duties.
For the day the Dow is trading at 26,405.76  up with +0.61% percent or +158.80 point. The S&P 500 is trading at 2,907.95 up with  +0.13% percent or +3.64 point. The Nasdaq Composite is trading at 7,950.04  with a loss of -0.076% percent or -6.07 point.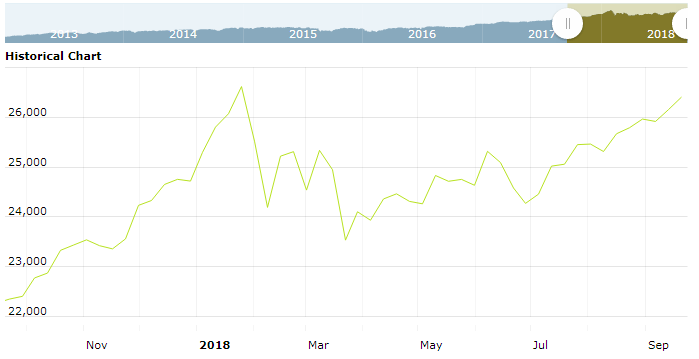 Other leading market index closes included the small-cap Russell 2000 Index closed at 1,702.93   with a loss of -0.47% percent or -8.04 point; the S&P 600 Small-Cap Index closed at 1,070.30 with a loss of -0.71% percent or  -7.70 point; the S&P 400 Mid-Cap Index closed at 2,030.26   with a loss of -0.32% percent or -6.47 point; the S&P 100 Index closed at 1,288.15  up with +0.25% percent or +3.24 point; the Russell 3000 Index closed at 1,724.38 up with +0.024% percent or  +0.41 point; the Russell 1000 Index closed at 1,611.88  up with +0.064% percent or +1.04 point;