U.S. stock futures mixed  in pre-market trading for Wednesday, September 19.The Dow Futures is trading at 26,315.00  up with +0.05% percent or  +14.00 point.The S&P 500 Futures is trading at 2,910.25 with a loss of -0.05% percent or -1.50 point.The Nasdaq Futures is trading at 7,525.50  up with +0.02% percent or +1.25 point.
In overnight trading in the Eastern Hemisphere, Japan's Nikkei 225 is trading at 23,672.52 up with +1.08% percent or +251.98 point. Hong Kong's Hang Seng is trading at 27,389.72  up with +1.13% percent or  +305.06 point. China's Shanghai Composite is trading at 2,730.09  up with +1.12% percent or  +30.14 point. India's BSE Sensex is trading at 37,323.79 up with 0.089%  percent or +33.12  point at 12:15 PM.The FTSE 100 is trading at 7,319.89 up with +0.27% percent or +19.66 point. Germany's DAX is trading at 12,181.82  up with +0.20% percent or  +24.15 point. France's CAC 40 is trading at 5,378.85  up with +0.28% percent or  +15.06 point. The Stoxx Europe 600 is trading at 378.65 up with  +0.07% percent or +0.32 point.
Wednesday's Factors and Events
Around 7 a.m. ET, Dow Jones Industrial Average futures rose 16 points, indicating a gain of 37.04 points, while futures on the S&P 500 and Nasdaq 100 both indicated a relatively flat open for their respective markets.
Markets were given a slight boost as stocks in both Asia and Europe posted solid gains during their respective Wednesday sessions. In the previous session, stocks posted sharp gains, with the Dow closing up in the triple digits.
For the day the Dow is trading at 26,246.96  up with +0.71% percent or +184.84 point. The S&P 500 is trading at 2,904.31  up with  +0.54% percent or +15.51 point. The Nasdaq Composite is trading at 7,956.11  up with +0.76% percent or +60.32 point.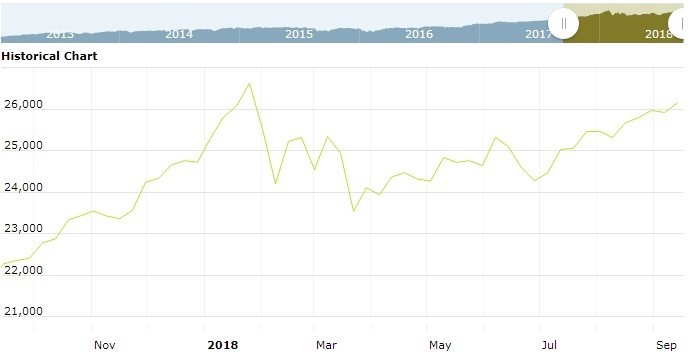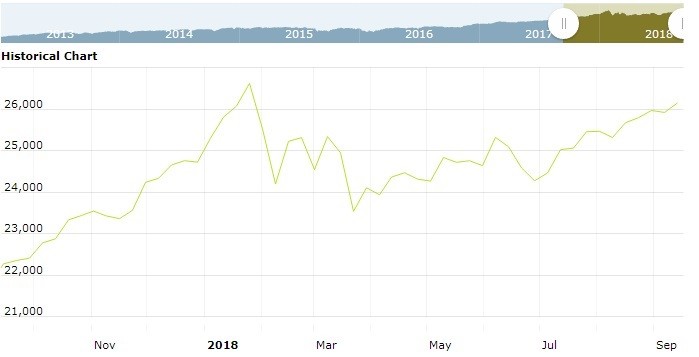 Other leading market index closes included the small-cap Russell 2000 Index closed at 1,710.97  up with +0.44% percent or +7.42 point; the S&P 600 Small-Cap Index closed at 1,078.00 up with +0.26% percent or +2.79 point; the S&P 400 Mid-Cap Index closed at 2,036.73  up with +0.41% percent or +8.24 point; the S&P 100 Index closed at 1,284.91  up with +0.57% percent or +7.34 point; the Russell 3000 Index closed at 1,723.97 up with +0.52% or  +8.99  point; the Russell 1000 Index closed at 1,610.84  up with +0.53% percent or +8.52 point;